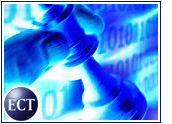 It's only a matter of time. After all, with Yahoo scooping up Overture, and every smaller search engine on the face of the earth already consumed by a larger player, it appears that the immovable object and the irresistible force will have to come together at some point.
Sure, Yahoo and Google could continue to wage their own battles, with Google fortified by its world-beating technology and Yahoo by its acquisition-fueled growth spurt and its legacy as one of the Web's first search and category sites. But why not just cut out all the preliminaries, call off the courting and put the two together?
Who Will Buy?
Of course, there will always be other search-sector players. MSN is nothing to sneeze at — particularly because Microsoft's Internet Explorer browser automatically diverts surfers who misspell URLs to the MSN search page. But the two big fish are Yahoo and Google.
Would regulators let them become one whopper of a shark? Who knows? The Department of Justice (DOJ) has proven to be completely unpredictable when it comes to antitrust matters, recently giving Orbitz the thumbs-up but indicating it would look long and hard at an Oracle-PeopleSoft merger.
Still, we're speculating, so for the sake of argument, let's assume the companies would leap that hurdle. Yahoo still would have to figure out how to pay for Google — if Overture is worth $1.6 billion, who knows what price tag might get hung on the still-private search titan? Or would it be the other way around? Google could use a Yahoo purchase to become a public company without all that messy, controversial IPO stuff.
Say What?
Once the who's-buying-who issue was settled, the next hurdle would be finding a name for the new search megacompany. Goohoo? Yaggle? Yahoo-Google? It seems ironic that although the two companies each have a catchy name, putting them together is all but impossible.
Well, Google has those creative maximizers on staff; surely one of them could come up with a compromise that would make both firms happy. (Not that anyone asked, but here's a vote for dropping the Yahoo! exclamation point along the way. It makes it look like you're trying too hard.)
Meat and Potatoes
Of course, the real issue would be whether the result of a Yahoo-Google merger would be better for us Web surfers who need to find what we want quickly. Personally, I don't think it would make one bit of difference.
Are there subtle differences in the ways Yahoo and Google do things? Of course, but the fact is that the two are moving ever closer to one another, adopting similar philosophies — Google's keywords are the toast of the online world, which is exactly why Yahoo bought Overture — and taking on eerily similar appearances.
In fact, Yahoo's new pared-down search site and Google are essentially the same, with the puzzle pieces shifted around a bit in each case. Google's technology already powers the Yahoo site, although there's some question about whether that will continue to be the case, given Yahoo's Overture purchase.
Because Yahoo's search engine is really Google in disguise, the results are often identical, save the sponsored and paid sites at the top of the page. Ask either search engine the question, "Where is Saddam Hussein?" and the first Web page is the library at East Carolina University. (Here's hoping the CIA has checked there, just in case.)
Age Differences?
So, where's the upside in such a merger? What would Joe Q. Surfer get post-Goo-Hoo that he doesn't get now? Not a whole lot.
There's also the May-December issue to consider. Yahoo had already been live on the Web for four years before Google launched. (Although, by then, even Google had been percolating for some time. An early incarnation was known as Back Rub, which may offer some possibilities for a post-merger name. Back-Hoo?)
Of course, Yahoo is a whole lot more than a search engine — but Google is well on its way to being a diverse Internet portal in its own right. Both have top-flight news categorization sites, and Yahoo is clearly the Cadillac when it comes to extra features like weather gizmos and dating services and stock quotes.
Perfect for Each Other
But they have oh-so-much in common. Both were born on the Stanford campus, after all, and according to Google's company history, Yahoo cofounder David Filo was among those who encouraged Google's inventors to start their own company. (What about Filo-Hoo?)
Seen in this light, it might be a match made in heaven — if only they could figure out a name.