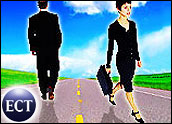 Ask Jeeves has sold its lagging enterprise software unit and has announced plans to raise US$100 million for a concerted push into the consumer search market, which the company said may include acquisitions.
The Emeryville, California-based company said it inked the deal to sell its Jeeves Solutions unit to privately held Kanisa for $4.25 million, including $3.5 million in cash up-front. The unit makes products used in enterprise search, particularly customer self-service interfaces.
Options Weighed
Ask Jeeves CEO Skip Battle said the decision was reached "after much consideration about the best growth strategies for both our Web Properties and enterprise software divisions. Ask Jeeves will now be in a position to focus entirely on pursuing the high-growth Web-wide search market."
The sale also made sense, he added, because Kanisa's primary focus is on enterprise customer service applications. Therefore, the purchase will enable existing Jeeves Solutions customers to get top service that Ask Jeeves could not provide if it wanted to make a serious run at becoming a leader in the search market.
Yankee Group analyst Rob Lancaster said the move is likely to help Ask Jeeves battle Overture, Google and Yahoo, which have emerged as the three main players in the consumer search space.
"Web search is where Ask Jeeves got its start, and the business it knows the best," Lancaster told the E-Commerce Times. "The addition of capital, plus the few million it got for its Solutions group, further places Ask Jeeves in a competitive position."
Cash and Carry
Although the sale of Jeeves Solutions provides a quick cash infusion, Jeeves said it plans to arm itself with at least $100 million in capital.
The company said it will use a portion of that total to boost marketing spending by $1 million for the remainder of 2003 in a bid to build its brand. It will earmark the rest for "general corporate purposes, including potential acquisitions and investments."
The search space has become a hotbed of consolidation activity. In the past several months, Yahoo bought Inktomi, while Google scooped up Applied Semantics. Overture, meanwhile, plunked down $140 million to buy AltaVista, once considered the Cadillac of search engines.
Consolidate and Conquer
Although some say search is only beginning to emerge as a force online, Lancaster disagrees. "The Web search market is as mature as any other Internet-based sector, with some vendors dating back to the early 1990s," he wrote in a recent report. "Many small vendors have come and gone, and the larger vendors have had to continually adapt to fluid market conditions."
In fact, the search market is so fluid that it is hard to know where Jeeves ranks. "It's difficult to measure the search vendors in terms of who is number one," Lancaster said. "Even if you base the figure on quantity of searches/queries, what is to say that those queries produced relevant answers?"
The Ask Jeeves sale echoed FAST's decision to sell its Web search business to Overture earlier this year. "Time and again, it has proven difficult for a single vendor to support both enterprise and consumer search businesses," Lancaster said. "Google is the only vendor that continues to operate in both markets, but [it] is clearly focused more on the Web search."
Positive Direction
Shares of Ask Jeeves fell slightly in early trading Thursday to $14.07. However, despite this decline, the stock has been on a roll after falling below the dreaded $1 threshold last fall.
Although Jeeves may face an uphill battle to take a leadership role in the search market, it is well armed and is already seeing better results. The company said it will raise its second-quarter forecast, boosting revenue expectations by $1 million, to $23.5 million, after recording strong sales figures early in the quarter.
"Now, with a single-market focus, we are in an even better position to continue to pursue the opportunities in the Web-wide search sector," Battle said in a conference call.