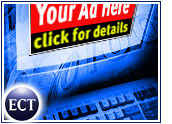 In a move to simplify its user interface, search engine Ask Jeeves has announced it will discontinue use of banner ads on all of its Web sites, instead focusing on sponsored searches, paid for by advertisers, to generate revenue.
This move follows Ask Jeeves' recent elimination of interstitials, also known as pop-up ads, from its Web site.
"We're focused on creating a more satisfying search experience for both our users and our advertisers," said Steve Berkowitz, president of Ask Jeeves Web Properties.
From now on, the search engine will rely on two advertising programs to generate revenue: The first, Branded Response, is a pay-for-placement servicethat uses graphics and images; the second, Premier Listings, places an advertiser-sponsored text message at the top of search results.
Long-Planned Move
Ask Jeeves has been testing a banner-free site since last summer, according to company spokesperson Carrie Bishop. Tests showed that without banner ads, greater screen real estate was available for sponsored searches.
Also last summer, in a precursor of the banner ban, Ask Jeeves replaced its run-of-site banner ads with search-specific banners, Bishop told the E-Commerce Times.
Because banner ads make up less than 5 percent of the company's revenue, according to Bishop, Ask Jeeves saw the opportunity to gain even more revenue through sponsored search results. "We're hoping by increasing user satisfaction, people will increase their use of the site and thereby increase revenues."
Sponsored Searches Profitable
According to Ask Jeeves, Branded Response generates as much as a 25 percent click-through rate. Such sponsored searches have proved profitable for the Emeryville, California-based company, which has built its fortune on "natural language" search techniques.
For example, the company anticipates that its Web properties, including its various sponsored-search programs, will account for 87 percent of revenues in its fiscal fourth quarter.
The company also reported that its paid placement business increased 40 percent between the first and second quarters of 2002.
Ask Jeeves' sponsorship revenues were also bolstered by a three-year, US$100 million deal with Google, announced last summer. Under terms of that agreement, both companies share revenue from Google advertisers on the Ask Jeeves sites. Google sponsored links replaced the third-party paid listings previously included on Ask Jeeves.
Advertising Conflicts
Indeed, search engines in general have found more success in generating advertising dollars through sponsored searches, according to Yankee Group analyst Rob Lancaster. "By taking them away, you increase usability, and you increase user perception it's an effective site, and they're not getting bombarded with ads," Lancaster told the E-Commerce Times.
In Ask Jeeves' case, dropping banner ads also may prevent conflicts between the different types of advertising services.
"It's more of a profit center for them to focus on providing sponsored links, and do away with banner ads, particularly when they're offering search as a service," Lancaster said.