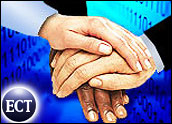 In yet another effort by the recording industry to capture the elusive hearts of the music-swapping public, six brick-and-mortar record store chains have formed a consortium to provide consumers with online and in-store access to digital downloads.
Best Buy, Tower Records, Virgin Entertainment Group, Wherehouse Music, Hastings Entertainment and Trans World Entertainment — the operator of FYE, Strawberries and Coconuts stores — said the group they have formed, called Echo, is the first effort by retailers to gain market share in the world of online music.
Hoping to bridge the gap between retail stores and the Internet, the group said it will seek competitive licenses with record labels so that retail members can better compete in the digital music marketplace.
Industry Downturn
The formation of Echo comes amid a major downturn in the recording industry. Profits have fallen, and the industry has blamed the proliferation of free file-swapping. The Recording Industry Association of America has said Internet piracy caused a 10 percent decline in record sales during 2001.
In the past couple of years, record labels and other services have banded together to form their own online music services to combat free file-sharing networks like Kazaa, but their efforts to date have been largely unsuccessful.
Licensing Deals Critical
Echo will operate by securing licensing from record labels, then offering music content to retailers that can resell it either under their own brand or co-branded with Echo.
"With competitive licenses, music retailers can utilize their long history and expertise in building customer relationships, marketing music and breaking new artists to provide a digital music experience that truly serves the consumer," said Echo CEO Dan Hart.
The Echo group is part of Echo Networks, which previously ran a streaming music service.
According to analysts, the Los Angeles-based group has yet to secure any licenses with record labels.
Value of Customer Relationships
But despite the current dearth of licensing agreements, record labels are likely to work with the new consortium, according to Yankee Group analyst Michael Goodman. After all, the recording industry has hit rocky shores, and there are already existing relationships between record labels and retailers.
"If the labels are going to give anyone permission to do this, it's going to be to these guys," Goodman told the E-Commerce Times. "They are somebody within the existing value chain trying to do something, rather than an outsider coming in and saying, 'This is how you need to do your business.'"
Goodman emphasized that the group is "not trying to blow up the retail model — that's still their bread and butter," but rather is attemptingto transition the group of people who download free music to an online sales model.
"The challenge is to find a way to take some of that behavior and migrate it to a paying platform rather than a free platform," said Goodman.
In-Store Kiosks Potential
Aberdeen Group analyst Michael Hoch agreed that the biggest hurdle Echo will face is its competition from free services, but he is optimistic about the in-store offerings Echo could provide for retailers — something that Internet-only services, such as LoudEye, cannot as easily offer.
"If consumers are in the stores and want to have a customized CD, it would allow you to do that, and it also controls the distribution of the content — it doesn't go outside of the kiosk, and they can charge for it," Hoch told the E-Commerce Times. "It's getting consumers back into the music stores that's the problem."