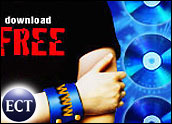 EBay sellers in eight states have been hit with lawsuits filed by the Motion Picture Association of America (MPAA), claiming they sold pirated DVDs through the auction site.
The MPAA filed suit Tuesday against nine separate ventures, marking the first time that the industry group, whose members include most of the large movie studios, has targeted eBay sellers.
eBay could not be reached for comment, but published reports indicate the company is cooperating with the investigation into the sales.
Small Fish
The suits, filed in California, Nevada, New Jersey, Virginia, Alabama, Florida, Kansas and Connecticut, all charge that illegally copied DVDs were sold through eBay and seek compensatory damages for the movie studios.
MPAA president Jack Valenti said the DVDs are often of lower quality than official releases and are usually sold at bargain prices. "It is an unfortunate reality that consumers may be sorely disappointed, finding that the DVD or video that they paid for is not a bargain at all and that it is, in fact, of a much lower quality," he noted.
He urged consumers to be wary of sites selling DVDs with price tags that seem too low, that have not yet been released to home video or that appear to have inferior cover art.
Hot Products
The MPAA said that all told, the nine parties named in the lawsuit were responsible for selling about 1,000 illegally copied DVDs in recent months.
The suit comes at the busiest time of year for eBay and at a time when DVDs are among the hottest-selling items online. Used or low-price DVDs are particularly sought after by bargain-hunting shoppers, according to Nielsen//NetRatings analyst Lisa Strand.
"Were seeing shoppers willing to spend more time to search for low prices, and thats helping to drive people to places like eBay," Strand told the E-Commerce Times.
New Releases
Indeed, pirated material seems to be readily available on eBay. A search of the auction giant's site turned up an overseas seller offering to deliver a DVD of The Two Towers, the second installment of the Lord of the Rings trilogy, before Christmas. The film has not yet been released to theaters in the United States.
The crackdown on U.S.-based DVD resellers comes as a closely watched court case gets under way in Norway. In that case, a man faces charges that he developed and distributed a software program that enabled copy-protection devices on some DVDs to be disabled.
The case stems from an MPAA suit filed in 1999, shortly after then-15-year-old Jon Johansen developed the DeCSS program.
The Real Thing
EBay users, meanwhile, were apparently the target of a complex fraud that used a fake eBay-like site to gather credit card data. The SANS Institute Internet Storm Center said eBay users received messages telling them to visit the site and update their credit card information.
That site was not associated with eBay and may have been used to steal private information, according to the center, which noted that the site had shut down as of Tuesday.