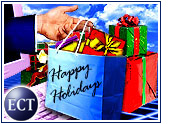 Online sales continue to impress as the holiday season enters its home stretch, according to two new reports. ComScore/Media Metrix said consumers spent US$2 billion during the week after Thanksgiving, marking an all-time one-week sales record for the Web and representing an increase of 34 percent over the same week in 2001.
As in past years, the Monday after Thanksgiving represented the real start of the holiday crunch online, as many consumers engage in e-shopping at the workplace.
Most analysts consider the eight weeks leading up to Christmas to be the online holiday shopping season. This year, since the beginning of November, U.S. consumers have spent $8.2 billion online, up 29 percent compared with last year.
Happy November
Meanwhile, the eSpending report from Goldman Sachs, Nielsen//NetRatings and Harris Interactive found that November sales rose 22 percent over last year to $6.2 billion.
Harris Interactive director of e-commerce research Lori Iventosch-James told the E-Commerce Times that compared with previous shopping seasons, price now seems to matter more to shoppers.
That price consciousness has helped boost eBay to the top spot among all online shopping destinations, leapfrogging Amazon.com. According to Nielsen//NetRatings, eBay drew a unique audience of 11.9 million shoppers in November, compared with 10.2 million for Amazon. Amazon's audience is larger, however, when traffic at such sites as Toysrus.com and Target.com is taken into account.
"Sites like eBay appeal to price-conscious shoppers," Iventosch-James said. Other top-drawing shopping sites were portals, such as Yahoo, MSN and AOL, which offer easy price comparison shopping.
Stuck in a Rut?
A third report from GartnerG2 cast the only real cloud over holiday sales sunshine by suggesting that consumers are leaning toward buying items they are already accustomed to purchasing online, rather than branching out into new product categories.
GartnerG2 said its survey revealed that shoppers will buy primarily CDs, DVDs, toys and software, the same items that sell well online throughout the year. Research director David Schehr said the consistency shows that "consumers now understand the strengths and weaknesses of the Web as a retail channel."
But Schehr said that even this reluctance to branch out will not slow down e-commerce in 2002, with worldwide holiday sales on pace to surpass 2001 levels by more than 48 percent.