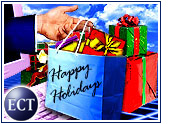 Thanks to the weak economy and a shorter-than-usual holiday shopping season, analysts who focus on the overall retail market have said the onlyforeseeable aspect of this year's holiday sales is that they will beunpredictable.
The same cannot be said of forecasting online holiday sales revenue, however. "It's getting to be more predictable because it's getting to bemore of an established reality," GartnerG2 research director David Schehr told the E-Commerce Times. "The kinks have been worked out. You've got moreestablished players that are more seasoned. You've got a larger and widerconsumer base. You have very high satisfaction with their experience lastyear."
Survey Says…
Several firms and organizations are predicting double-digit increases inonline holiday sales compared with 2001, a period that itself saw big increases fromprevious years. Actual sales projections, though, vary from group to group.
GartnerG2 is probably the most optimistic. It expects North Americanonline holiday revenue to top US$15.6 billion, a 32 percent increase from 2001.On a slightly more tempered note, analysts at comScore Networks saynon-travel-related online sales are expected to rise 27 percent to $13.8 billion.
In the meantime, Forrester Research is on the low end of the scale, predicting just a 14 percent jump in online holiday sales to $9.5 billion.
Forrester analyst Chris Kelly told the E-Commerce Times that this year'sforecasting was easier on the online side of the retail equation because the effects of September 11th are not as immediate. "After September 11th,nobody knew what was going to happen at all with anything. So that's what made last year incredibly hard to project," he said.
In the Real World
The financial situation is much different in the overall retail market. Asurvey by the National Retail Federationshowed that total holiday sales this year are expected to rise just 4 percentto $209.3 billion. In 2001, holiday shopping revenue rose 5.6 percent.
Likewise, retail analysts at Standard &Poor's Ratings Services expect to see just a 2 to 3 percent gain in 2002 overall holiday sales, compared with the 4 to 8 percent increases posted during the prior five-year period.
A thin ray of hope broke through the clouds surrounding overall retail salesjust before the Thanksgiving holiday, though, in the form of a higherConsumer Confidence Index. That indicator rose in November, breaking five straight months of declines. The index remained below last September'srating, however, and was lower than economists' forecasts.
Spending Shifts
So, why is online spending increasing while real-world revenues remain flat?It is not a matter of consumers spending more money overall. Instead, it is all about allocation.
GartnerG2 estimates that the average consumer who intends to shop online has a total gift budget of $800, and about $235 of that total will go toward onlinepurchases. Over time, consumers have been shifting more of their gift budget to the online channel, fueling double-digit revenue increases at e-commerce sites. Schehr believes this trend will continue in the future.
The ongoing transfer also helps make online holiday spending more predictable,Schehr said. "You can get a decent picture of what the growth is going to belike, even if the vagaries of what's happening in the total offline worldis uncertain."
In addition, millions of people started buying online this year, Forrester's Kelly said. The influx of new dollars from those purchasers also will play a part in online holiday sales increases.
Fewer Post-Holiday Implosions
Although the online sector in general is likely to see healthy growth this holiday season, not all e-tailers will be happy with the results. But many of those selling on the Internet nowadays are multichannel retailers, like Best Buy and The Gap — companies that have both online and offline presences.
"If [multichannel retailers] have a bad holiday season, it's not going tototally put them under," Kelly said. "If BestBuy.com doesn't reach its salesfigures, for example, they won't shut down the Web site."
The inescapable fact that there are fewer online retailers than in the past also points toward success for the survivors. "It's a function of the fact that we're already working with a more streamlined group of retailers than we were the past couple of years because it's been so rough," he said.
All of these factors add up to this: If any kind of shakeout happens at the end of this holiday season, it should be smaller than those seen at the end of 2000 and 2001. "Will we see a whole slew of news stories about e-tailers that have gone out of business because they had a bad holiday season? I don't think so," Kelly said.