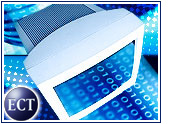 The speed of information delivery is continually increasing. Most people who work in office environments have had access to broadband Internet connections for years, and more home users than ever before can surf the Web at speeds that eclipse those of the fastest dial-up modems.
According to audience measurement firm Nielsen//NetRatings, which tracks the broadband universe in the United States, about 29 percent of all Internet users last October, or about 30 million people, had broadband Internet access in the home.
"While we're seeing the growth rate slow down, we're still seeing month-to-month increases on the broadband side," Nielsen//NetRatings senior analyst Carolyn Clark told the E-Commerce Times.
Speedy Strategies
With that in mind, companies that conduct business online are starting to update their Web sites to serve a "faster" audience. "The baseline assumption, especially if the site is targeted for a U.S. customer, is at least 56k or above," Thomas Mueller, vice president for experience design at Web strategy firm Razorfish, told the E-Commerce Times.
As more bandwidth becomes available on the user side, Razorfish challenges both its clients and its own employees to better utilize higher speeds. "We can achieve more, so people can make faster and more elegant sites," Mueller said. Broadband elements can be mixed into sites as well. For example, a chart may be updated in real-time using Flash.
However, broadband design strategies are different for corporate Web sites than for consumer-oriented ones. Even though companies that run business-to-business (B2B) sites generally assume that their customers have high-speed connections, design constraints are still fairly stringent.
"The reason here is [that] a lot of the enterprise and business … sites we are building are generally Web applications — applications moved to the Web to enable people and business users to get information," Mueller said. "You want to keep the data and the page wait on the clients as low as possible, so that the overall experience for the business user is as swift as possible."
Slowing Down
But whereas Mueller said the standard for business-to-consumer (B2C) site designers is 56k or higher, GartnerG2 research director Geri Spieler told the E-Commerce Times that such sites still must consider dial-up speeds of less than 56k. After all, broadband is not yet ubiquitous, or even predominant.
When consumers shop online, they generally start and end a session within 15 minutes, and they tend to know what they want, Spieler said. One of the only exceptions is when they comparison shop on consumer electronics sites. Therefore, she said, "Most consumer electronic pages will show a lot of products on a page, and it'll pop up very quickly. You've got to design it for speed and lots of information at once, and it has to load very quickly, because it could be on dial-up."
There is one constant across the consumer and business audiences — users do not want to wait for pages to be served, even if they are on a broadband connection. "A page has to load, no matter what kind of site you're talking about, in six to 10 seconds per page," Spieler said.
Looking "Back"
Both Mueller and Spieler agreed that tailoring a Web site's content and design for particular speeds is only half the battle. Back-end functions are equally important, because they help customers quickly locate information or products.
In the e-commerce space, for example, back-end processes are responsible for ensuring that merchandise is in stock, as well as verifying that orders are placed correctly and that shipping occurs as planned.
"That's also a part of the design process, because if I start buying something from you, and the process doesn't follow logically, smoothly and seamlessly, and I don't get a confirmation, then forget [repeat business]," Spieler said.
Looking Forward
As broadband becomes more ubiquitous in coming months and years, the owners of Web sites that cater to business users and consumers alike should think about how to address this high-speed evolution.
On the B2B side, there has been a move to start experimenting with rich-media offerings that are best experienced with broadband. This movement is concentrated in traditional industries that initially did not take to the Web as quickly as others, Nielsen//NetRatings' Clark said.
B2C e-commerce sites, meanwhile, should start to develop richer types of information for consumers. For example, textural photography can give an online shopper a much better idea of an item's color, content and design. Other improvements might include three-dimensional pictures or mini videos that show products in action.
"I want to see how it works," Spieler said. "I want to be able to have almost as much information on the screen as if I were standing in the store actually handling the product."