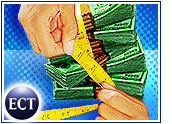 The sticker price of high-speed Internet access remains too highfor a majority of U.S. residents, although the service is now available in most areas of the country, according to a government report released by the U.S. Department of Commerce's Office of Technology Policy.
The Commerce Department said that more than half of American homes have Internet access, but only one in 10 uses a broadband connection — DSL, cable or satellite — to surf online. In this respect, the United States trails such countries as South Korea, where more than half of households are equipped with a broadband connection; Hong Kong, with 25 percent broadband penetration; and Canada, where nearly 20 percent of residents have broadband access.
The report suggested that price, which averages about US$50 per month compared with $20 per month for dial-up access, is a major factor in lagging consumer adoption. It said many consumers believe broadband access is a luxury that they cannot afford or that is not yet worth the higher monthly cost.
Despite those findings, the trend within the industry is toward higher prices. Since the beginning of 2001, monthly costs have increased by an average of 11.4 percent for DSL users and 16 percent for cable users, according to the report.
Content Challenges Users
At the same time, the report suggested that lack of content geared specifically toward broadband users — such as video game networks, movies and music — is another major reason that Americans are not rushing to sign up for high-speed Internet access.
On the bright side, the report credited the now-defunct Napster file-sharing service with serving as a catalyst for consumer broadband adoption, along with speedier computers and CD burners. Since Napster's demise, no other technology has spurred the market in a similar fashion.
"Widely popular services and applications drove adoption of earlier technologies, and they will be the key to accelerating broadband deployment as well," the report noted.
Value Remains in Convenience
Matthew Davis, director of broadband access technologies at the Yankee Group, told the E-Commerce Times that the type of content driving broadband adoption remains the same as it was a few years ago — network gaming and the ability to download larger movie and music files.
But the real value, Davis contended, lies with increased convenience. "The killer applications for broadband remain faster downloading of Web sites and not tying up your phone line," he said.
An always-on connection also can make a difference, according to Andrew Bartels, vice president for technology and electronic commerce strategies at Giga Information Group.
In terms of consumer shopping habits, Bartels told the E-Commerce Times that a fast Internet connection alone may not spur user spending, but the technology's convenient nature, which allows a phone line to remain open, will likely lure users.
Prices To Drop
Consumers could see prices fall over the remainder of this year and into next year, according to Davis.
"Slowly and steadily, they're getting penetration into their existing footprint, and that's going to allow them to offer the service, possibly, at a lower price," he said. "The more penetration you get into your network devices, the cheaper the overall cost of supplying the service is."
Davis added that broadband suppliers also are beginning to offer tiered pricing, which means users who require the most bandwidth pay more than the typical home user.
He noted that until now, providers' networks were not sophisticated enough to allow tiered pricing options. In the future, he predicted, more people will have access to tiered plans, spurring increased adoption of high-speed services.