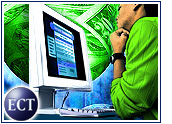 U.S. consumers' confidence in Internet products and services remains high, and they plan to spend US$4.8 billion online during the first quarter of 2003, up from $4.6 billion in the year-ago period, according to a survey released Friday. In addition, the number of consumers who said they plan to shop online in the first three months of this year increased 9 percent compared with last year, to 56 percent.
On the other hand, the survey, conducted by ACNielsen for Yahoo, found that consumer Internet confidence rated 111 points, four points lower than at the same time last year.
Manjima Khandelwal, vice president at ACNielsen International Research, attributed the decreased confidence rating to the sluggish economy in general.
"The good news for the Internet community and e-tailers is that confidence levels remain relatively stable compared to other leading consumer-related trends and indicators," Khandelwal said.
The survey has a baseline rating of 100.
Record Holiday Spending Spillover
The anticipated surge in e-commerce sales may represent a spillover from 2002's record online holiday season.
A similar situation occurred last year, according to Forrester senior retail analyst Carrie Johnson. She noted that nearly 2 million people engaged in online transactions for the first time during the fourth quarter of 2001, with many making donations to charitable organizations after September 11th. After the holiday season, a significant percentage of those first-timers returned to the Internet in the first quarter of 2002 to shop.
"Not as many consumers shopped online in 2001 Q4 as expected because of the economy last year," Johnson told the E-Commerce Times. "They started to rebound in Q1. Online sales won those people back."
Fourth-Quarter Flashback
In contrast to the fourth quarter of 2001, the same period in 2002 was strong online, indicating that first-quarter 2003 sales also may be relatively robust.
An ACNielsen survey released prior to the fourth quarter of 2002 showed that 59 percent of respondents said they intended to shop online in the last three months of the year, spending an estimated $15.5 billion in total. Consumer confidence for the fourth quarter of 2002 weighed in at 113.
Johnson said free shipping offers from online retailers such as Amazon.com, along with other holiday promotions, played a major role in luring consumers to the Internet for holiday shopping. She noted that when final online sales figures are tallied for the period between Thanksgiving and Christmas, revenue is expected to total between $9.5 billion and $10 billion — and that period does not even take into account the rest of the quarter.
Broadband Users Most Confident
In the latest ACNielsen survey, consumers with high-speed Internet connections expressed the most confidence in what the Internet could offer, beating out dial-up users by 21 percent.
ACNielsen said the difference between the two groups can be attributed to broadband users' increased comfort levels with online credit card use, plus the convenience of faster Internet access.
Indeed, overall growth of broadband adoption may contribute to the projected increase in e-commerce spending. A Nielsen//Netratings study showed that 33.6 million U.S. residents accessed the Internet via a broadband connection in December 2002 — a 59 percent increase from a year earlier.
Besides the convenience of an always-on Internet connection, broadband users also have access to more multimedia shopping experiences, including use of 3D virtual models, 360-degree virtual-reality tours, and audio and video tools that let them view and evaluate products more thoroughly before making a purchase.