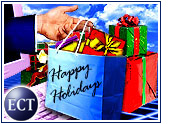 Two new reports have predicted several more years of sustained growth for e-commerce, as well as a strong 2002 holiday season, as online shoppers search for bargains in a languishing economy.
Audience measurement firm Nielsen//NetRatings said that while the upcoming season will resemble 2001 in many ways, e-tailers will have additional opportunities to attract buyers who turn to the Web in search of lower prices.
Meanwhile, according to Forrester Research, e-commerce can expect at least four more years of strong, consistent growth as categories that have lagged in online sales catch on with shoppers and the economic environment improves.
Holiday Hope
The NetRatings report argued that despite the current flurry of free-shipping promotions, e-tailers may be better served by focusing on item price. The report noted that steep discounts by traditional retailers last year may have siphoned off some potential online sales.
"Although consumer confidence is declining, shoppers will still purchase holiday gifts, but they will be searching for a good deal," said Nielsen//NetRatings chief e-commerce analyst Lisa Strand. "E-tailers that can satisfy online shoppers will be positioned well to capitalize on the growing number of online shoppers and buyers."
In fact, the economic backdrop provides clues to how e-tailers should approach the season. NetRatings recommended a "sound search engine strategy." Strand noted that 13 percent of 2001 holiday shoppers said they found e-tail sites via a portal or search engine, and through "well-crafted" e-mail promotions containing "enticing offers."
Ready, Set, Sell
Strand also recommended that e-tailers take note of when sales spikes occur, then try to smooth out their business cycle by promoting sales at other times. While sales generally increase as the holiday season draws to a close, peak sales varied widely in 2001, depending on the product category.
For instance, consumer electronics sales peaked during the week ended December 2nd, while books, music and video sales did not top out until two weeks later, indicating that shoppers were confident last-minute purchases would arrive on time.
As always, though, the best advice for online merchants is to execute on the basics by keeping items in stock at all times and by organizing Web sites to be more like offline stores, so that shoppers can easily find what they're looking for, Strand said.
Down the Road Again
Over the long term, according to the Forrester report, e-commerce will continue to grow at a "slower, but still impressive" rate of 25 percent per year. The research firm predicted that by 2007, online sales will make up 8 percent of all retail spending, compared with just over 1 percent today, and will total $218 billion annually.
Forrester analyst Carrie A. Johnson told the E-Commerce Times that growth will be spurred by "late-blooming" categories that have yet to establish a foothold online and therefore have more room to grow.
Meanwhile, the number of U.S. households shopping online will nearly double to 63 million by 2007, or nearly two-thirds of all households. Forrester said that, on average, food and beverage sales will grow 49 percent per year; home products will grow 42 percent; and flowers, gifts and cards will tack on 41 percent annual growth.
Johnson noted that the 27 percent growth forecast, while still impressive, pales in comparison with the 97 percent expansion rate that e-commerce has enjoyed annually over the past five years.
"E-commerce can look forward to steady growth for a while longer," Johnson said.