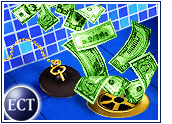 U.S. online sales fell in the third quarter, marking the first quarterly decline in the history of e-tail as economic realities finally found their way onto the Web, according to a Forrester Research report.
Citing data compiled by comScore Networks, which recently acquired the Media Metrix Web traffic measurement service, Forrester said sales in the quarter totaled about US$17 billion, down from nearly $20 billion in both the first and second quarters.
Forrester analyst Carrie A. Johnson told the E-Commerce Times that the largest merchants propped up sales. Amazon.com — which reported strong sales in a quarter highlighted by the launch of a co-branded Target store and continued free shipping — and Yahoo, which held a much-hyped one-day sale, led the way.
Closing the Gap
Otherwise, the quarter mirrored offline retail more closely, including a weak back-to-school season and headlines dominated by sharp drops in the major stock market indices, lower consumer confidence and concerns about an impending war with Iraq.
"As online retail goes mainstream, meaning that the demographics of the online shopper look more and more like the demos of offline shoppers, e-commerce will not be insulated from typical retail trends," Johnson said.
Meanwhile, longer-term trends are hinting at slower growth. Forrester estimated that over the past five years, online sales grew at an annual rate of 97 percent, nearly doubling each year. For the next five years, however, Forrester expects to see 25 percent annual growth.
Blue Christmas?
The weak third quarter will clear the way for a fourth quarter that will feature "decent, but not delightful, growth," according to Forrester.
"Holiday and fourth quarter sales will barely impress," Johnson said.
Only monumental efforts by e-tailers will salvage the fourth quarter. Amazon.com, for example, has reported initiatives to sell brand-name clothing by adding an apparel tab to its site, and to provide an array of free shipping and discount offers.
While 4 million new households will shop online this year, each customer is anticipated to spend less. Forrester is estimating per-person online sales will average $433 for the year, compared with $463 in 2001.
Weighing Down Sales
Johnson said the factors poised to weigh down sales may be even more powerful. In addition to the dour economic outlook, she cited potential for continued labor unrest at U.S. West Coast docks, which could delay delivery of Asian-made goods. In addition, this year's holiday shopping season will be nearly a full week shorter than the 2001 season.
As a result, true holiday season sales, projected to total $9.5 billion, will represent less than half of all fourth-quarter spending. That is down considerably from last year, when sales in the four-week period between Thanksgiving and Christmas made up nearly 60 percent of fourth-quarter purchases.