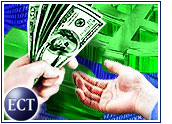 More than half of all U.S. retailers said their online sales operations achieved profitability in 2001, and growth could top 40 percent in 2002, according to a joint report published by the Boston Consulting Group, Forrester Research and Shop.org.
The study, called "The State of Retailing Online 5.0," predicted that online sales will grow 41 percent in 2002 to US$72.1 billion, far surpassing growth in 2001, which came in at 21 percent as online sales rose to $51.3 billion.
The study pointed out that retailers are beginning to learn how to use the online channel to sell and market to customers more efficiently. Indeed, customer acquisition costs are plummeting as customer retention rates rise.
"Online retailing certainly learned from the early years," Shop.org chairman Elaine Rubin told the E-Commerce Times.
Trend Lines
"Early on," Rubin said, "companies needed to get out there and be evangelists for this new way of buying. It was a very inefficient way to grow a profitable business. Retailers are now learning there are more cost-effective ways to find those shoppers who are clearly out there in mass numbers online."
This profitability trend has been in the making for a while. Shop.org found that 43 percent of online operations were turning a profit in 2000.
Online retailers, led by travel heavyweightsTravelocity and Expedia, among others, began recording profits consistently about a year ago. Even Amazon.com, which lost millions as it grew to become the largest online seller, edged into the black during the fourth quarter of 2001.
Fewer Players
Meanwhile, scores of unprofitable companies have failed, leaving mainly financially sound companies plying the online trade. At the same time, retailers have dramatically improved the efficiency of their online approaches, Boston Consulting Group vice president Peter Stenger told the E-Commerce Times.
"Online retailers have generally shifted to mining their existing customer base rather than using broad-based TV or radio marketing to generate traffic," Stenger said. "This is having a much faster and better payback."
Rubin noted that the 2001 figures came out amid a weakened U.S. economy. That is one reason the group believes 2002 sales will grow more quickly.
Stenger said the study's 2002 estimates are based on actual sales in the first four months of the year.
"We feel very confident that there is going to be a return to robust growth," he noted.
Marketing Costs
Still, online retailing remains a money-losing proposition for many companies. The study found that, on average, online sales operated at a 6 percent loss, although that is an improvement over the average operating losses of 15 percent in 2000 and nearly 20 percent in 1999.
Only catalog retailers had positive online margins, at 6 percent above the break-even point. Brick-and-mortar retailers and pure plays continued to post losses, although the study indicated a move away from steep losses.
Analysts attributed the gains mainly to more focused approaches to marketing. Marketing costs fell from $20 per order in 2000 to $12 in 2001, while customer acquisition costs fell to $14 per customer from $29 the year before. Meanwhile, more shoppers made multiple purchases, with repeat buyers accounting for 53 percent of all sales in 2001, up from 40 percent in 2000.
Percentage Points
Online buying appears to be grabbing an even stronger foothold, especially in certain categories. While U.S. Census Bureau figures show that overall online sales represent just over 1 percent of all retail activity, the study found that in many categories, online penetration is much higher.
For instance, online sales of books, music, videos, toys and consumer electronics all represented more than 5 percent of total sales. In some categories, online penetration was as high as 17 percent.
Work Plan
The challenges for the rest of this year will be to integrate multiple channels and find better ways to measure the true impact of online sales and marketing, according to the report.
"Retailers need to find ways of using different channels to reach the same consumer," Stenger said. He added that vendors must make additional efforts not only to improve CRM (customer relationship management) by better understanding consumer preferences, but also to cut costs through more effective supply chain management.
"Web-influenced sales are not always measured that effectively," Rubin added. "Trying to understand the role and value of each channel is one of the biggest challenges, and some organizations are already finding creative solutions to that problem."
Specific strategies for merging channels will be the focus of a follow-up report from the same three companies, which is slated for release in July, Rubin added.