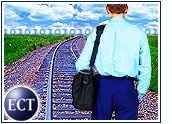 As 2003 dawns, several signs indicate that the U.S. economy is starting to improve. Among them is the Conference Board's index of leading indicators, which rose solidly in November. With those welcome tidings in mind, some workers in the e-commerce sector may be hoping for a reprise of the late 1990s, when jobs were plentiful, stock options were actually worth something, andthe general high-tech atmosphere was highly caffeinated.
Are those hopes realistic, or is the mania that fueled the Internet boom gone for good?
Many experts do not believe the high-tech sector will return to the go-go pattern of the late '90s, even as the economic cycle swings upward.
"Even in other business cycles, we've never seen the growth have themagnitude it had in the 1990s," Jeanne Metzger, National Venture Capital Association vicepresident of business development and public affairs, told the E-CommerceTimes. "What we've seen in the past two years and now, and [what] will continue to occur for the next couple of years, is a return to more sustainable, healthylevels of investment."
Mitigating Factors
In the late 1990s, a combination of factors unique to the times helped nurtureexplosive and lucrative growth. The overall U.S. economy had seen several solid years before the boom. In this climate, entrepreneurship took hold and flourished, buoyed by the venture capital industry, which pumped funds into many companies that did not have the best of business plans.
Add to that the healthy initial public offering (IPO) and merger andacquisition (M&A) markets, along with rampant innovation surrounding theInternet and other technologies, and you had a recipe for an economy that tookoff toward the stratosphere, Metzger said.
A similar confluence of events happened in the late 1980s, during the personal computer boom. But in both eras, the market eventually became flooded with too much capital and too many players, and ultimately crashed.
Falling Back, But Not Out
The situation is much different at present and will remain lackluster in the nearfuture, according to Metzger. Although some funding is available for companies, investments have fallen to levels that are far below the highs seen during the bubble. Over the course of the next year, the environment will remain difficult for high-tech firms seeking capital infusions, Metzger said, noting that venture capitalists have told her they foresee little change through late 2004.
David Alschuler, senior vice president of e-business and enterpriseapplications at Aberdeen Group, told the E-Commerce Times that the VC market is especially tough for pure-play startups, "even if they have good ideas."
"The market has matured very quickly, and either people have establishedthemselves or they have folded their tents and gone away, or they've rolledback to being adjuncts for other businesses," Alschuler said.
All Is Not Lost
While it is not likely that the high-tech sector will return to the heightsseen in the late '90s, Metzger noted, "I'll never say never."
After all, the e-commerce sector is far from dead. In fact, it is booming. According to Web traffic measurement firm comScore Media Metrix, e-commerce spending most likely topped $74 billion in 2002, a 39 percent jump from 2001. And Alschuler said he expects that when 2002 holiday sales tallies are finalized, revenue will prove to have increased 50 or even 60 percent over levels recorded during the 2001 holiday shopping period.
In addition, existing companies, especially multichannel retailers like Nordstrom and Federated Department Stores, which owns Macy's and Bloomingdale's, will no doubt continue to invest in and improve their Web sites.
"Two years ago, [multichannel retailers'] capabilities were relatively weak,with uninteresting and inventory-poor Web sites," Alschuler said. "Now, it isimportant to them to make their full range of inventory available on theirsites, and to make the process of buying things off of their sites easy andpleasant. They're learning the Web is important to building their brandequity and maximizing lifetime customer value."