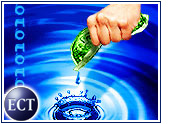 When Cisco CEO John Chambers announced he received US$1 in salary during the past year, the move was seen as largely symbolic. He still received millions of stock options, after all. But thousands of technology workers who have seen their salaries stop climbing — and in some cases fall in real-dollar terms — during the past two years could certainly relate.
The classic law of supply and demand has caught up to technology workers. Not only are fewer jobs available, but there has been a noticeable erosion of salary gains made during the technology boom.
Going Down?
According to outplacement firm Challenger, Gray & Christmas, 75 percent of top-earning workers reported taking a pay cut if they changed jobs in the second quarter of 2002.
"Employers are in no rush to hire, and apparently they are secure enough to believe they can find the talent they need for a lot less money," CEO John A. Challenger told the E-Commerce Times. "It's the type of trend that can really hamper an economic recovery."
Not all workers have seen their pay fall, however. In fact, the majority of salaries have held steady or continued to inch up over the past two years, following rapid increases in the late 1990s.
The Bureau of National Affairs has predicted that this year's overall pay increase will be in the 4 percent range, up slightly from last year, with technical workers being the biggest gainers.
Cruelest Cut
One reason the rapid gains made during the tech boom are still reflected in many salaries, Challenger said, is that corporations consider pay cuts as a last resort, since they can have devastating effects on worker productivity.
But workers still may feel less well off than in the boom years, particularly because once-glittering perks, such as stock options and programs that let employees buy stock at discounted prices, no longer have as much value.
For some workers, such perks made up as much as 30 percent of overall compensation packages, Allan Hoffman, technology jobs expert at Monster.com, told the E-Commerce Times. "Some employees considered those benefits, even though they were speculative, as part of their pay," he said.
Breaking It Down
Whether or not a job pays as well today as it did in, say, mid-1999 depends on a number of factors, according to Hoffman, including where a job is located and how deep a worker's skills are.
For instance, Silicon Valley, Boston and Washington, D.C., where large number of unemployed skilled technical workers are concentrated, may see steeper salary drops as companies recognize that they can lower the bar and still attract qualified workers.
"There is much more differentiation now," Hoffman said. "Web marketing, Web design — those saw big gains in employment and pay but have come down the most."
Nitty Gritty
The Monster.com and HotJobs career sites show a range of salaries for very similar jobs. For example, a job in Irvine, California, for a Web developer with rich media experience had a posted salary of $35,000 to $45,000, while a Las Vegas, Nevada, Webmaster gig advertised a flat rate of $25 per hour.
Both salary figures are probably a little lower than the jobs would have fetched two years ago, Hoffman said. On the other hand, an information architect position in Connecticut seeking a person with four to five years' experience had a top salary range of $70,000, and a system administrator job in Houston, Texas, was paying up to $60,000. Both of those salaries have been the going rate in their respective fields for some time.
Future Perfect?
In general, less-glamorous jobs, such as back-end network operations and programming, have retained more of their gains, Hoffman noted. He added that software design skills, particularly in the security sector, are also still in high demand.
Challenger said that given the length of the slowdown, a strong economic upturn probably will have to occur before employers start to pay incoming workers significantly more. "Chances are they'll play it conservative for some time," he said.