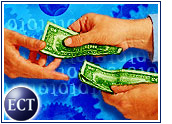 Although innovation can be a wonderful thing, there is something to be said for sticking to the basics. In fact, that is how venture capitalists seemingly have come to feel about high-tech companies as they contemplate which to fund with now-limited resources.
"Funding has slowed to a trickle," Forrester research director Charles Rutstein told the E-Commerce Times.
Those who remember the manic days of VC funding during the Internet boom may find the current climate jarring by comparison. However, venture rounds have not changed as dramatically as one might think.
Instead, investors have gone back to the good old days of funding, when a company had to have a rock-solid product and a realistic business plan. The money situation may be new, but the perspective is downright old-school.
Changed Focus
In the time of Pets.com and its ilk, funding rounds consistently made news as investors threw fistfuls of cash at startups. Now, companies are getting funded at lower valuations, and the rounds are smaller. Gone are the days of "elevator pitches" that netted entrepreneurs an easy US$20 million or more.
"We've gone back to the levels of funding we saw in 1997 and 1998," Rutstein said, "and the way that investors are looking at companies is also similar to that time. It used to be an approach of, 'If you build it, they will come.' But now it's simply a much more pragmatic, low-risk style of investment."
Work in Progress
Rather than focus on a company's potential, venture capitalists want to see something tangible, like a product. Dot-coms had nothing to throw onto a table at a board meeting, but today's high-tech companies in the funding arena usually do. Even if a product is not an object that can be held, it must be an understandable technology built for a purpose.
"The emphasis is on working products," Rutstein noted. "Investors want to see some problem that the product is solving, and how customers will use it."
For a while in the late 1990s, dot-coms gained a slight edge over hard-core technology makers in the funding arena. However, in the aftermath of widespread online flameouts, high-tech firms that make hardware or advise other companies on networking or security have recaptured their perch in the catbird seat.
Contenders in the Ring
Forrester is set to release a VC funding report in the next few days, providingdetails about companies that are getting funded. As Rutstein noted, the list is rife with high-tech firms that have proven technology.
Among those companies are business process management software makers like Intalio and Savvion, as well as supply chain software developers Factory Logic and Exemplary. Also mentioned are security patch management companies Shavlik Technologies and St. Bernard Software.
Rutstein said these are all companies to watch because they have demonstrated to VCs that they have reliable products and, just as importantly, executives who know how to get those products to customers.
"Investors are really looking for experienced management now," Rutstein said. "They need serial entrepreneurs with a track record."
Network infrastructure company Data Power, for example, is steered by Steve Kelly, who has been involved in the launch of several startups. He co-founded Castle Networks, which was acquired by Siemens.
Brighter Horizon
Other firms have attracted VCs with products that are ready to fill a current need, not a vague customer desire of the future.
For example, St. Bernard Software makes products that protect against data loss and system threats. Although its work is similar to that of some other companies, St. Bernard has a solid, shippable product that seemingly looks good to investors.Even more enticing to potential VCs, the firm recently posted its highest quarterly revenue results in the company's seven-year history.
Another company, supply chain developer Factory Logic, looks promising by virtue of its partnerships, including deals with Oracle and IBM. The company also has employed the unusual technique of announcing partnerships with individuals, such as well-regarded figures in the operations and technology fields.
These high-tech contenders are the type of companies that investors are watching closely, Rutstein said. Although VC funding may be only a trickle now, when it becomes a steady stream, companies that produce high-level high-tech will be well placed.