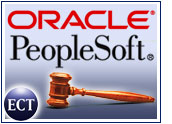 In the U.S. government's case to block Oracle's hostile bid for PeopleSoft, the federal judge overseeing the proceedings has pushed for both sides to make more information public, and has taken an active role in questioning witnesses.
In the case's first week of testimony, Judge Vaughn Walker told lawyers that the amount of material being filed under seal has become unmanageable. The case involves documents not only from Oracle and PeopleSoft, but SAP and other vendors as well as customers. Much of the information, which includes data on software deals and other issues, has been filed under seal.
During the trial, Walker expressed impatience with the amount of redacted documents. He also directly questioned two witnesses, including a former executive at J.D. Edwards, which PeopleSoft acquired shortly before the Oracle bid.
Still Early
The reaction of the judge does not show whether he is leaning toward one side or another, Yankee Group senior analyst Michael Dominy told the E-Commerce Times.
But he did note that the judge has made a few comments early in the week that seemed to bode well for Oracle, including one that showed he thought there was enough competition in the marketplace for a merger to occur.
"You could take some of his comments as positive for Oracle," Dominy said. "But, in reality, I think this will be a tough court case regardless of how the judge is acting. There are obviously lots of issues to consider."
Winding Road
Although the testimony in the case has only just gotten started, there have already been several interesting arguments that have cropped up from both sides.
The Justice Department has used testimony from PeopleSoft customers Verizon and IBM to argue that there is not enough competition in Oracle's market to allow it to take over PeopleSoft. Meanwhile, Oracle cited an analysis done by PeopleSoft to show that smaller companies were significant for the market.
Before the case even began, a revelation came up that Microsoft and SAP had been discussing a merger earlier in the year. This is the kind of information that is contained in the scores of documents that Judge Walker will have to examine. Knowledge that the talks would be revealed during the case forced the companies into telling all before the case began.
Ori Inbar, vice president of product marketing for SAP NetWeaver, told the E-Commerce Times that the company did not want anyone to be surprised by what came up in court.
"We knew it was likely to come up during the Oracle investigation," he said. "We felt it was in everyone's best interest, therefore, to say something first."
Whether other companies will follow suit as Judge Walker rejects any more seals on new documents remains to be seen.
Issues, We Got Issues
As the case continues, it is likely that other issues will come up regarding corporate governance, said Donald Margotta, Northeastern University associate professor of finance, in an interview with the E-Commerce Times.
"There are primarily antitrust issues involved, but there's much more to it than that," he said. He noted that one aspect of the case that is particularly intriguing to him is the fact that several large institutional holders of PeopleSoft also own significant amounts of Oracle stock. Margotta feels that this could come into play during the case.
"I think it shows that we're coming into a new era in terms of corporate governance," he said. "It's a very bizarre situation, where you could have a big owner of PeopleSoft who might be better off financially if the company took a lower bid."
He noted that recently several of PeopleSoft's shareholders have urged the company to accept an offer from Oracle.
The corporate governance aspect of the two companies could have an effect on the trial, Margotta said, because it shows that they have overlapping interests. Because of that, he expects the Justice Department to make full use of the information.
"The Justice Department has a better feel for what's going on the SEC in this matter," he said. "It sees conflicts of interest, and they're acting on their duty to preserve competition."