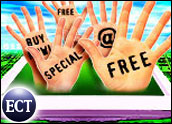 As more companies pursue ever-scarcer revenues in this slow economy, they are putting more emphasis on getting the word out about their presence. To rise above the clutter, those firms may be thinking about moving beyond traditional marketing channels to attract more attention — and customers. But how far should companies go in their online efforts?
While the Internet is not the only marketing channel a business should examine, it definitely should be part of the plan. "It can augment their other marketing efforts," Hollis Thomases, president of Internet marketing firm WebAdvantage.net, told the E-Commerce Times. "Companies may view online the same way they look at buying space on cable TV — they're looking at other ways (besides traditional media) to break through."
What To Expect
Marketers and company owners may wonder what kind of results they can get by mixing online marketing with advertising in traditional media. The evidence seems to indicate that the benefits of such an approach can be significant. A case study released last October by the Interactive Advertising Bureau, for example, showed that McDonald's was able to increase awareness of its Grilled Chicken Flatbread sandwich in the 18- to 49-year-old demographic by using a dual online/offline strategy. And brand awareness increased even more when the online portion of the budget played a larger role in the marketing equation.
Also, a case study earlier this year of a similar effort by Microsoft's MSN network and Unilever mirrored the results of the McDonald's study.
Although outcomes of different cross-media campaigns may vary widely, these and other studies prove that "the Internet makes up a good part of the mix for branding," Jim Nail, senior analyst at Forrester Research, told the E-Commerce Times.
Aberdeen Group research director Kent Allen agreed with that conclusion. "What's getting them [to these sites]? It's certainly not only Internet advertising," he told the E-Commerce Times. "Over the last couple of years, there have been a lot of multichannel marketing efforts, and you're seeing those pay off."
Generating Leads/Sales
Once a company gets a customer to a site — from a search engine, an e-mail campaign, a banner ad, or a cross-media campaign — it generally needs to either collect customers' information so it can contact them later or directly sell them some kind of merchandise or service.
WebAdvantage.net's Thomases said the success of a business's efforts to capture data or sell products via a site depends on how well the site facilitates those processes. "It goes back to site functionality, intuitive use of the site by users, calls to actions within the site — all of the Web basics we've learned," she noted.
The most effective e-commerce sites allow users to drill down through merchandise, then browse categories via small pictures called thumbnails, according to Thomases. "It's really about getting into the consumer's head and presenting information in a way that works the best to convert them into a serious shopper."
With lead generation, a company could try to exchange specialized information — a white paper, for example — for a person's contact details. But the business should not expect to reap abundant leads if it asks for too many details. "If you have no relationship with that interested party and you start asking for all kinds of demographic information, they'll be wearier and less likely to fill out those forms," Thomases warned.
What Works Online – And What Doesn't
Analysts agree that easier-to-buy items like CDs and books generally sell better online than more complex or high-priced products and services. Dell, for example, lets customers configure computers online. "But the majority will end up calling the 800 number to complete the transaction because they have one or two last questions they want answered before they actually buy," Forrester's Nail said.
More complex products and services are now starting to be sold online, though such transactions tend to take place in the business-to-business (B2B) sector rather than in the consumer market, Aberdeen's Allen said. "However, in the B2C(business-to-consumer) area, you're getting some customization opportunities too — football jerseys, jean sizes, and things like that," he added.
What the Future Holds
As a practitioner in the business for the past five years, WebAdvantage.net's Thomases said she has seen Internet marketing grow to prominence and gain credibility. She believes it will play an even bigger role in the future. "There's a greater realization out there that you can't just build it and expect people to come," she said."You have to do something to get people there. And that's where Internet marketing comes into play.
"Why would you spend hundreds of thousands of dollars building something you're not getting a whole lot out of? You might as well go out and buy empty warehouse space," she added.