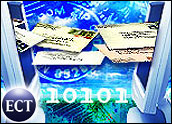 Even in a world of overstuffed e-mail inboxes and jaded recipients, advertisers continue to find value in e-mail marketing campaigns.
The difficulty, of course, is finding a way to stand out amid a sea of spam. Successful marketers have done so — and at the same time have refined their e-mail blasts to a point at which recipients are not only willing, but also happy, to receive their missives.
"If it's relevant, timely and from a trusted source, consumers will be glad to receive a marketing message," GartnerG2 research director Denise Garcia told the E-Commerce Times. "Good offers can even turn into viral marketing campaigns on their own. But it's always a tightrope for advertisers. They have to be careful not to push too far."
Soup's On
Garcia said she sees nothing on the horizon that could slow down the trend, under way for the past three years, in which direct mail marketers have realized the benefits of using e-mail — lower costs and generally higher response rates.
As a result of this ongoing trend, future e-mail marketing campaigns likely will have to compete for consumers' attention with even more unsolicited or unwanted e-mail messages. But savvy online marketers say a few basic ingredients can create e-mail campaigns that succeed every time.
The first is permission, which can be obtained indirectly by purchasing e-mail marketing lists that consumers at some point agreed to be part of. However, it is far better to obtain permission directly.
The second vital ingredient is relevance: Spam is, by definition, a message that someone does not want to receive, regardless of who sent it.
Another key is to think of e-mail marketing campaigns not as blasts or even batches, but as one-on-one communications between a brand and each individual consumer. Analysts recommend that a company always begin by evaluating whether its message is important enough to warrant taking some of a consumer's valuable time.
Nurturing Relationships
Already, most large consumer-focused enterprises have come to recognize that e-mail marketing has more value for customer retention than for acquisition.
Shawn Conly, director of corporate Internet marketing at Intel, told the E-Commerce Times that even among people interested in receiving messages, distinguishing desired e-mail from unsolicited spam can be difficult.
"Spam has tainted a lot of legitimate e-mail marketing," Conly said. "But it can still be an effective way for us to get people more detailed information than we can give them in an ad campaign."
Keep in Touch
To counter the negative effects of spam, companies should send messages only when they have something to offer, such as a timely discount or promotion, BookZone.com founder Mary Westheimer told the E-Commerce Times. BookZone runs e-mail promotions on behalf of its publishing company members.
"The best messages can be forwarded along," she said, increasing the value of the campaign by referral and widening the scope of future campaigns. She also recommended sending e-mail during the day and in the middle of the week, because "messages sent late in the day or on weekends are easier to sweep into the trash."
In the end, of course, consumers decide which messages are worthy of their time and which should be deleted unread. To avoid being labeled spammers, marketers must constantly measure the response to their missives to ensure they are not losing their edge.
"The difference between welcome e-mail and spam is relevance," Columbia University marketing professor Ruth Stevens told the E-Commerce Times. "One man's welcome communication is another man's junk mail."