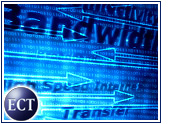 Microsoft has announced that it plans to spend US$300 million to promote its MSN Internet service, casting a shadow over the glittery New York release of AOL version 8.0, which continues to be the world's most widely used online service.
AOL said the latest version of its software includes better e-mail filtering, beefed-up parental control options and more advanced chat options that allow users to connect with others interested in similar subjects. As expected, the update also includes more access to original programming content from elsewhere in the AOL Time Warner corporate family, such as Harry Potter movie previews and CNN news.
The launch focused heavily on the new software's broadband-ready features, marking the start of what eventually will be "an entirely differentiated AOL Broadband service," according to AOL president Lisa Hook. For example, up to seven users now can log on to the same AOL account at the same time if they use a broadband connection.
AOL CEO Jon Miller called the upgrade, which seems timed to take advantage of holiday shopping, "an important step in our overall broadband strategy." Earlier, he had called the new software "the most important product introduction" in AOL's history.
Dog and Pony
Hours before AOL debuted its new version, Microsoft announced plans for a massive media campaign designed to win a bigger share of the market. The software giant said the investment represents the largest ever marketing outlay for MSN, which has long run a distant second to AOL in terms of subscriber base. MSN version 8.0 is slated for release October 24th.
In fact, neither company is sparing much expense on its launch or taking pains to avoid glitz and hype. The MSN campaign, which began Monday, will culminate next week in New York when rock star Lenny Kravitz and Microsoft chairman Bill Gates will share a stage in Central Park.
AOL, meanwhile, trotted out its own stable of celebrities, with comedian Dana Carvey and musician Alanis Morissette slated to take part. It invited thousands of AOL members to the New York event, including an online pregnancy club with members who became pregnant around September 11, 2001.
Battle Joined
Hype aside, it is clear that broadband is the next battlefield for online services, IDC vice president Richard Villars told the E-Commerce Times.
Online services are investing heavily in landing new customers, he said, because they represent value far beyond their monthly fees. MSN and AOL can leverage their audiences in other ways, especially if more users are connected via broadband, making it easier for them to become consumers of video-on-demand and other high-end features.
"The battle isn't just over the sheer numbers," Villars said. "How a person accesses the Web plays a critical role in how they make purchases and other ways they use the Web."
Rough Year
It has been a tumultuous year for AOL since the company released version 7.0 last October — just days after Microsoft announced it would sink $30 million into improving MSN.
AOL Time Warner has undergone a management shuffle and found itself dragged into the white-hot light being trained on corporate accounting tactics, with both the U.S. Securities & Exchange Commission and the U.S. Department of Justice said to be investigating some of its dot-com partnerships.