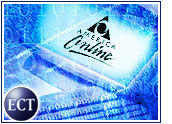 Amid growing problems behind the scenes, America Online is releasing the first major beta version of AOL 8.0. The full version is expected to launch this fall and will serve as the centerpiece of a brand-new user experience, according to company executives.
Added features and enhancements focus on ease of use, communications, community, online safety and relevant programming.
The upgrade is the result of feedback from AOL's 35 million members, according to David Gang, the company's executive vice president of product marketing.
"We designed AOL 8.0 around what our members told us they care about most — how they communicate, how they manage their families' online experience, and the easiest ways to shop, share digital pictures and enjoy music," Gang said.
Staying Competitive
While analysts said they do not expect version 8.0 to attract new customers, the enhancements could help AOL keep the ones it already has.
"Version 8.0 helps AOL competitively match against its competitors on a features checklist," Giga Information Group analyst Ken Smiley told the E-Commerce Times. "Customers don't have to go elsewhere looking for a specific feature."
One such feature is parental controls, designed to be easier for parents to use and customize, according to AOL execs. AOL 8.0 also offers other family-security features, including information about online safety and a Web site called "Report Card" that lists sites a child has visited.
Analysts noted that parental controls and security features are a must for Internet service providers (ISPs), and said players not offering such tools are at a growing disadvantage.
Market Challenges
AOL is still the leading ISP, with total use of the company's network averaging more than a billion hours per month. Daily use per member in the United States is more than one hour per day. AOL members daily send up to 400 million e-mails and 1.4 billion instant messages, and stream songs or videos more than 1 million times. In addition, the company claims its subscribers account for more than 67 percent of all online shopping.
But despite this impressive string of user statistics, AOL faces the same challenge as its competitors: growing market share.
"How do you get more eyeballs?" said Smiley. "And how do you retain the ones you have in the face of a lot of technology changes that are allowing people to get connected to the Internet or do other things through other platforms?"
Weathering the Storm
But AOL also must surmount additional challenges that other ISPs may not face. The company is still looking for a new leader, and many of its executives are resigning. Making matters worse, the U.S. Department of Justice is probing AOL Time Warner's accounting practices, and the initial public offering of AT&T's stake in the Time Warner Entertainment joint venture has been postponed.
All this behind-the-scenes action leads to the question: Can a company be successful with so much turmoil in the boardroom?
"Any time an organization gets distracted from a number of different directions, it impacts their products and their sales cycle," said Smiley. "At least in the near term, all this has got to have a negative impact on AOL."