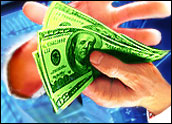 AOL might have structured ad revenue between 2000 and 2002 to makeits long-term profit picture appear rosier than it really was, according toThe Washington Post. In an article appearing in Thursday's Post, staffwriter Alec Klein wrote that AOL was under pressure to bolster its stockprice so as not to jeopardize its takeover of Time Warner, during a periodwhen its investors were concerned about softening advertising revenue.
While AOL reportedly was taking steps to shore up that revenue, Robert Pittman,then the company's president and until now its chief operating officer, assured Wall Street analysts and the media that the company was unaffected by the slowdown in advertising.
The story adds to AOL's woes at a time of declining profits and plungingstock prices. Pittman resigned after market close Thursday.
Vanishing Dot-Coms
According to the Post, AOL officials learned in October 2000 that thecompany could lose as much as US$140 million in advertising revenue duringthe next year because so many of its dot-com advertisers were going out ofbusiness.
AOL allegedly responded to this threat with a series of unconventionalaccounting moves: counting penalties for ad contract terminations asadvertising revenue; selling ads for cash to its own online service;booking ads it sold on behalf of eBay as its own ad revenue; andbartering advertising for computer equipment, stock rights and monies owed in court judgments.
In addition, after the merger with Time Warner, AOL allegedly required acable station whose programming was carried on Time Warner Cable to buyadvertisements on AOL as part of its payment to the cable network.
Although these unconventional deals represented just a small fraction of AOL's revenue, they allowed the company to meet analysts' earnings expectations — when it otherwise would not have — during three quarters in 2000 and 2001.
Questionable Deals
At least two whistleblowers apparently tried to alert senior management thatthey found these deals improper. According to the Post story, the vicepresident of finance of AOL's advertising division resigned in March 2002after failing to convince Pittman and others that reported advertisingrevenue was not sustainable. A former senior manager of AOL's business affairs division also said he was laid off because he would not go along withquestionable deals.
While AOL has not denied the reported transactions, the company took issuewith the Post's characterization of them in a response published by thePost. Pointing out that AOL's external auditor, Ernst & Young, reviewed all of the deals and found them to be in accordance with generally acceptedaccounting principles, spokesperson John Buckley stated that "AOL hasmaintained a strict and effective set of internal controls."
At press time, AOL was unavailable for comment.
'Everybody's Doing It'
Some of AOL's accounting practices are not unusual in the high-tech world,according to Giga Information Group vice president and research leader ErinKinikin.
"Product swaps or other 'in kind' services between closely relatedcompanies are facts of life and have been used for years to make up formissing revenue in slow quarters," Kinikin told the E-Commerce Times.
Other reported AOL tactics are less common but still not unknown. For example,according to Kinikin, Priceline.com and other Internet companies have bookedpass-through sales, just as AOL did with eBay's advertising.
However, the era of creative accounting for advertising revenue might bedrawing to a close.
"'Everybody's doing it' is only a good excuse if you'renot the one who gets caught," Kinikin noted. "I think you'll see more andmore of these side deals disclosed and out in the open, which is going tomake them less attractive for companies and more visible to investors."