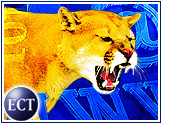 Admitting you're wrong is one of the hardest things to do in life. So it's no wonder that despite a mountain of evidence that the AOL Time Warner merger seems doomed to failure, the marriage continues.
Still, for some time — and more so lately — cries have been going up, mainly from disgruntled shareholders, for Time Warner to toss AOL onto the street.
That's an idea whose time has yet to come. In fact, AOL should remind the Time Warner people whos the boss.
Winds of Change
That's right, AOL bought Time Warner. Not the other way around. I know it sounds crazy now, but it made a lot of sense then.
And you know what? The people holding Time Warner shares liked the idea well enough at the time. Yes, there was some grumbling, but plenty of people felt confident that a quick payday lay just over the horizon.
Unfortunately, that was no payday. That was a looming storm. And it's been raining since about five minutes after the deal was made official.
But instead of taking their lumps with the rest of the investing public, Time Warner types think they can simply dissolve their failed union and all will be forgiven.
Dead Weight
Those investors believe that, by itself, Time Warner will be able to soar — or at least get off the ground. It has a strong movie business, and its TV and print divisions can hold their own.
But spinning off AOL is easier said than done. For starters: Who would want it?
It's one thing to ask investors to buy stock in a shiny new dot-com; some even did, as evidenced by the IPOs of PayPal, Overstock.com and Netflix. It's another thing entirely to ask them to buy a stake in a rehashed one.
Sure, AOL has its strong points. It's still number one, as its ads say, but it can't grow membership the way it used to; who can? It has to be careful with its pricing approaches, lest a gang of aggressive competitors pounce. And any business that relies on advertising revenue as heavily as AOL still does won't get much more than the time of day from investors.
Spin the Bottle
So spinning off AOL won't work. But that's not a good enough reason to keep dead weight around. So the Time Warner agitators have to ask a more difficult question: What happened to AOL?
Of course, the online ad slump happened. And investor tastes changed. But most of all, AOL was sent to the corner and told to behave. Then, when it didn't return with gobs of money at the end of every quarter, it was sent to an even more remote corner.
AOL has become the black sheep of the Time Warner family. And that's a self-fulfilling prophecy. Right now, all assets — especially those in the Internet world — need to be nurtured, pumped up, focused on like the wobbly children they are.
Guilty of Neglect
AOL needs to do more than simply "be" the biggest online service. It needs to act like it. It needs to become indispensable.
Millions of people have vowed never to go near AOL and have lived happy lives on the Web despite their decision.
AOL should do all it can to make that impossible, which of course will take some help from Time Warner and the valuable entertainment assets it owns. It might even mean opening up the AOL world a bit more, inviting more people in to look around.
It's not likely that AOL will grow big and strong and kick Time Warner in the shins anytime soon. But given the right resources and the right leadership, it might be able to show investors that it's still the boss.
What do you think? Let's talk about it.
---
Note:
The opinions expressed by our columnists are their own and do not necessarily reflect the views of the E-Commerce Times or its management.
---