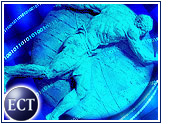 When AOL bought Time Warner at the start of 2001, the merged company's future looked bright. The air was still fresh inside the Internet bubble, the deal created a company worth a whopping US$160 billion, and AOL chairman Steve Case boasted that the dynamic duo would build an unrivaled news and entertainment empire.
But as history has proven time and again, empires crumble.
Time Warner, a publishing powerhouse, agreed to the merger with the expectation that AOL would lift it to even greater heights. The opposite has happened: AOL is dragging the once-mighty publisher into the red. The conglomerate recently posted the largest quarterly loss on record: $54 billion.
Stumbling, Then Tumbling
A host of troubles are plaguing once vibrant dot-coms, including dismal ad revenue, slowing subscriber growth, murky international strategies and management problems. Although some companies have been hit by several of the economic downturn's poison arrows, AOL is a veritable target range.
"The market that created AOL and made them the power they were has collapsed; and so AOL is doing the same," Rob Enderle, a research fellow at Giga Information Group, told the E-Commerce Times.
The main problem is that AOL envisioned the Internet as a walled garden, with its subscribers happily playing inside, getting all their content within the boundaries of the service. When that concept didn't pan out, the company tried to increase the value of its insular city by adding Time Warner properties.
"The only problem," Enderle said, "is that Time Warner is not the only player in terms of content. There's Sony and Disney to contend with. It's pretty clear that Time Warner doesn't have enough clout to revitalize this whole walled garden approach."
Maybe Size Does Matter
The result, according to many analysts, is that the company is a mess. After the merger the two firms never truly learned to work together effectively, and when AOL began grappling with major problems, the situation got worse.
"The synergies that were supposed to appear have not," Jonathan Gaw, research manager at IDC, told the E-Commerce Times. "So now there's a lot of suspicion within the organization, and no cooperation. You've just got a lot of people trying to protect their turf."
But perhaps any two companies of such great size would have similar troubles. Although some may tout the benefits of a bigger organization, when a company grows too large, efficiency and agility are lost.
"AOL has hit that point where they're trying to teach an elephant to dance," Gaw said.
What's My Line?
Another source of potholes in the AOL Time Warner road is indecision about what the company wants to be. So far, it has tried to blend technology and content, with mixed results.
Cross-promotional marketing has had some success. For example, AOL's online promos for "Harry Potter" were boosted Web page impressions. Other attempts at using digital means to distribute content have either been clumsy, like the company's attempt at digital music subscriptions, or unsuccessful, like its video-on-demand trials.
For AOL to be truly revolutionary inside the walled garden, though, its subscribers would have to have access to broadband.
Because an overwhelming number of users lack such speed, the company is left to use its online properties merely to sell old-media items like magazine subscriptions, books and movie tickets.
Can This Marriage Be Saved?
Although AOL's problems seem insurmountable, some industry observers expressed cautious optimism that the merged company could work its way to profitability again.
"At some point, AOL will need to get smaller," Enderle said. "In the near term things don't look good, but when the overall market recovers, AOL could recover."
How the conglomerate can bounce back into the black is a trickier question. Gaw suggested a direct approach.
"One scenario," he said, "is that [CEO Richard] Parsons gets everybody into a conference room and reconfigures how they work together. He needs to come up with a strategy everyone can line up behind."
Such a strategy might include protecting AOL's subscriber base by making agreements with cable companies, or taking a chance on new digital content that can be served to dial-up customers. Whatever direction the company chooses, it is clear that for Time Warner to stay healthy, it must figure out what to do about its troubled parent.
And if it does not?
"Another scenario," Gaw said, "is that they just continue to make half-hearted attempts at coming together, and stumble around until somebody gets divested."