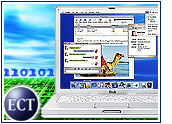 Microsoft has stepped up what promises to be an interesting battle with AOL by planning to offer its MSN subscription service to users of Apple's Mac OS X operating system.
The announcement comes shortly after AOL opted to use Netscape browser technology, rather than Internet Explorer, in its new version for the Mac. At the time, analysts noted that AOL was trying to expand its presence in the Macintosh market and boost the importance of its Netscape unit.
"AOL basically said, 'We don't have to pay Microsoft for this,'" Rob Lancaster, an analyst with the Yankee Group, told the E-Commerce Times.
Giga Information Group analyst Ken Smiley said that while the innovative Mac holds great appeal, Apple does not own a big enough market share, estimated at about 3 percent, for the competing services to spawn an out-and-out browser war. But according to Lancaster, the Apple market does represent a revenue generator down the road.
No Free Ride
Microsoft intends to release MSN for Mac OS X near the beginning of 2003, and it will be made available to MSN Internet Access broadband and narrowband subscribers. It will also be offered on a subscription basis to U.S. users who are customers of other ISPs.
Despite Apple's small market share, the new subscription service will let Microsoft expand the availability of MSN subscription services to a group of consumers who could not previously tap into MSN, said MSN director Bob Visse.
Visse said MSN worked closely with Microsoft's Macintosh Business Unit (MacBU) to come up with what he believes is a customized MSN that will appeal to Mac users.
"We're building MSN for Mac OS X specifically with the Mac user in mind. By seamlessly integrating with OS X technologies, MSN for Mac OS X will make the Web as useful as the Mac," said MacBU director of marketing Tim McDonough.
For Mac Only
MSN for Mac OS X will be designed to accommodate both beginners and seasoned Internet users. It will offer advanced communications services, including some that will deal with junk mail.
Microsoft will also enhance its browser offering to get users to the right information quickly. And the company will tailor its support for the Mac community, with free, 24-hour customer service via phone, e-mail and the Web. The company did note, however, that there might be connect-time fees.
MSN for Mac OS X will also provide a variety of safety features, including such tools as a broadband firewall and advanced parental controls. The company did not release any pricing details.
AOL, Apple Closer
It remains to be seen whether Mac users will favor MSN for Mac OS X over AOL's Mac service. AOL has attempted to blend Mac with its own offerings by adding features like a counter on the Mac OS X dock so that users can see at a glance how many new e-mail messages and instant messages they have. The company also has offered a new AOL Search service that uses Google technology to help users conduct online searches.
Also, AOL users can get to their e-mail accounts with a single click from the service's new welcome screen. AOL for Mac OS X is compatible with Apple's iChat, so Mac.com members, AOL members and AOL Instant Messenger users can freely interact with one another.
In recent weeks, AOL has apparently drawn closer to Apple, most notably with its messaging compatibility, leading Apple chairman and CEO Steve Jobs to crow over Apple's being the first outside company to peer behind the AOL curtain.