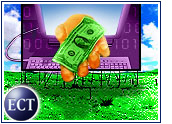 There are now an estimated 220 million active Internet users worldwide, according to Nielsen//NetRatings, but the value of that audience seems to be falling even as it grows in size and scope.
Web companies like Yahoo, which reaches 35 million users per month in the United States alone, and AOL, which reaches 37 million, have scrambled to replace lost revenue as the value of Internet ads — and, by extension, of surfers' eyeballs — has eroded.
But even though the wisdom of plastering banner ads on general interest Web sites may be in question, the Internet audience is still a highly valuable commodity — if it can be harnessed in the right way.
Divide and Conquer
For example, rather than casting a net over the entire Web, advertisers are willing to pay more to pinpoint their audience, because doing so drives up their chances of connecting with potential customers.
"The ability to customize ads to a population, measure the effectiveness of a campaign in real-time and adjust the campaign if necessary makes the Web a natural for advertisers," GartnerG2 analyst Denise Garcia told the E-Commerce Times.
Garcia predicted that additional marketing dollars will be spent online in coming years as both direct marketing — currently done largely through the mail — and branding campaigns currently conducted in print and broadcast make their way online.
Shifting Sands
In fact, even as many sites move away from relying on general-purpose Web advertising, they are diving deeper into the personalized and customized world of direct marketing.
Just last week, portal company Terra Lycos bought San Francisco-based GetRelevant, a company that co-registers Web surfers for online sites and with advertisers at the same time. Qualified leads then are sold to advertisers, which pay a premium because they know they are getting exactly the audience they want.
Get Personal
Dean Macchi, director of direct marketing services at Terra Lycos, told the E-Commerce Times that personalized offers are one way advertisers can leverage the Web's built-in benefits. "The Internet allows advertisers to achieve the Holy Grail of marketing," he said. "They can contact the right consumer with the right offer at the right time."
Macchi added that direct marketing is a large and growing part of Terra Lycos' business, as well as an expanding trend among all portals, which have massive audiences but have struggled to make ends meet as online ad prices have fallen.
In other words, he said, the audience that Terra Lycos reaches — it had 8.7 million unique visitors during the last week in September, according to NetRatings — may be more valuable when divided into various parts than it is as a single mass of users.
Stopgap Measures
But even its boosters admit targeted marketing will replace only a portion of revenue lost amid the overall online ad spending slowdown. That, in turn, leads to questions about whether high-quality news and information will remain freely available or whether other means of support, such as user fees, will become more widespread.
For instance, just weeks after its debut, Google's news service is already the subject of speculation about whether it will become a paid service once its beta test is complete. Google did not immediately respond to requests for comment on the issue.
But so far, the movement toward paid news and information has a mixed track record that will likely hold back the trend's emergence for a while longer, Nielsen//NetRatings director and principal media analyst T.S. Kelly told the E-Commerce Times.
"Until there is a critical mass reached, people will go elsewhere by and large rather than pay," Kelly said. "There are some exceptions, where a site has such valued and unique content that people will pay, but otherwise, it's happening very slowly."