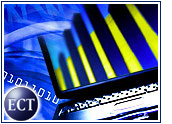 Internet market research is designed to be evergreen, so that clients who buy advice about online customer service or traffic-building tactics can use that advice later.
Typically, Internet market research is so geared toward business goals that companies use large doses of analyst insight when planning future strategies. But Internet market research firms have fallen on hard times of late, trying to remain financially afloat even as their clients let them go — or themselves sink.
It seems reasonable to assume that market advice should be just as important now, in an uncertain economic environment, as it is in a more stable environment. But the clients of Internet research companies are beginning to see things differently.
As a result of this change, many Internet market research firms are struggling to stay alive, much like other companies that depended heavily on the success of the Internet economy.
Shake 'Em Up
In May, Jupiter Media Metrix sold its Internet audience measurement service — one of its strongest competitive advantages — to ComScore Networks, and sold its European measurement service to rival Nielson//NetRatings.
A month later, Jupiter's CFO resigned and its board approved a plan to liquidate and dissolve the company after the sale of its other divisions.
PricewaterhouseCoopers, which had escaped being bought by Hewlett-Packard in 2000, found itself approaching HP in early July, only to be rebuffed. Instead, IBM bought the company, and will fold PwC's consulting and research divisions into Big Blue.
Even the largest firms — including Forrester, McKinsey and Accenture — have found layoffs and cost-cutting to be necessary tactics in the war to stay alive.
Sorry, No Work
Dan Kusnetzky, IDC's vice president of system software, told the E-Commerce Times that at one time there were about 300 market research firms examining some area of information technology products or services. Today, there are significantly fewer.
The main reason that Internet market research companies are seeing red instead of black is simple: client budget cuts.
"It is clear that many organizations purchased less industry and market research because their budgets no longer had the funds to continue purchasing and using it," said Kusnetzky.
With no money coming in to pay for research, inevitably there was less need for analysts to continue examining Internet strategies and offering their insights.
Waiting Room
Rob Enderle, an analyst for Giga Information Group, told the E-Commerce Times that brighter times do not seem to be just ahead for Internet market research firms.
The general sourness of the current economy is wreaking havoc on research companies, to the point where even if sudden growth were to occur in the next few months, it would still take a while for research companies to regain their former strength.
During the wait, there will likely be more staff cuts, budget reductions, department consolidation and overall belt-tightening.
"The number one priority for these companies is to get profitable," said Enderle. "They have to make sure they can weather this situation."
Finding a Niche
Enderle noted that many companies used to do a massive amount of very general Internet research. Now, he pointed out, some are finding they can ride out the economic storm by picking a niche.
For example, a company that once examined government computer use now has a better chance of selling research about specific issues, like how the Navy can use Linux effectively.
Economic Malaise
Some firms are also finding that economic malaise can be helpful when choosing research topics.
"It's a tough time," Enderle said, "so they address that. Reports that address things like cost-reduction strategies have a much better chance of being marketed. By doing that kind of research, too, firms can position their services as a way to actually reduce cost rather than increase it."
Enderle said that companies should be buying even more research — even given the tough economic times — because by buying less now they are limiting their potential for future success.
"They ought to be marketing themselves out of the valley," he said. "But nobody ever does that."