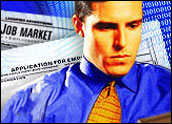 An increasing number of Europeans are using the Web to look for a job, according to a survey released Monday by market research firm MMXI Europe.
In the UK, for example, the number of unique visitors to job-related Web sites more than doubled between January and July of this year — with 684,000 unique visitors to job sites in July compared to 202,000 visitors in January.
Other European countries, such as France and Germany, have experienced similar trends, indicating "people rely on this very easy and convenient way of finding the right job," MMXI said.
The only European country reporting a downturn in visitors to career sites was Sweden, which had more than 700,000 online job seekers in January but only 539,000 in July, a drop that MMXI attributed to seasonal patterns.
Local Sites
"Unlike in other Web categories, where we see U.S. brands dominating, local knowledge seems important to the European job hunter using the Web," Andreas Gutjahr, European Marketing Manager of MMXI Europe, told the E-Commerce Times.
Gutjahr added, "While the top career sites, such as Monster.com and Jobsonline.com, have established themselves in the U.S., Europeans try different sites depending on what country they live in. The only U.S. brand among the favorite career sites in Europe is Monster.com, which was the seventh most visited job site in France."
Government Sites
The top site favored by Germans was Arbeitsamt.de, a government site, which was accessed by 361,000 unique visitors in July. French users preferred the government site ANPE.fr, with 159,000 unique visitors in July.
Swedes also sought out a government-sponsored job site, with 326,000 unique visitors checking out the listings at Ams.se.
Job seekers in the UK appear less loyal to a particular site. The most accessed career site was Fish4jobs.co.uk, with 170,000 unique visitors, but sites such as Reed.co.uk, Jobsite.co.uk and Jobsunlimited.co.uk were nearly as popular.
The numbers in the UK indicate that "Britons are trying different sites and that they are more responsive to promotional activities," said Arielle Dinard, the managing director of MMXI Europe.
Dinard explained that "Career sites offer an easy way of looking and applying for jobs, and they have the added advantage of being private when accessed from home."
More Jobs, More Listings
The MMXI report comes on the heels of a study released by Andersen Consulting, which said the Internet is fueling a job boom in Europe.
The Andersen report predicted that by 2002, the Internet will have directly created 3 million jobs in the six European countries studied — France, Germany, Ireland, Italy, Spain and the United Kingdom. Those jobs will be created by Internet pure-play companies, portals, software consultants, Web designers, and telecommunications and Internet Service Providers (ISPs) offering Internet access, Andersen said.
About MMXI Europe
MMXI Europe measures audience and user activity for interactive media and digital technologies.
In June, MMXI Europe's parent company, Media Metrix, announced a merger with U.S. research firm Jupiter Communications. The resulting company, to be called Jupiter Media Metrix, will be one of the largest Internet research firms in the world.