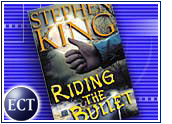 Citing horror author Stephen King's e-publishing efforts as proof that consumers are ready for digital publishing, electronic book provider NetLibrary, Inc. has filed to raise $82 million (US$) in an initial public offering.
Proceeds from the IPO, which will be handled by Credit Suisse First Boston, Deutsche Banc Alex. Brown and J.P. Morgan, will be used to sell and market its products and services, to acquire rights to additional titles for conversion to e-books, and for general corporate purposes.
The two year-old Boulder, Colorado company has digitally converted over 28,000 titles to create a library featuring books from the public domain as well as thousands of copyrighted online books and resource materials from about 180 publishers, including Houghton Mifflin and O'Reilly & Associates.
Momentum Overrides Concerns
In a filing with the U.S. Securities and Exchange Commission (SEC), NetLibrary acknowledged potential obstacles as it expands and goes public, but asserted that e-publishing is gaining momentum.
As proof that e-publishing is here to stay, NetLibrary noted an Andersen Consulting study which projected that total revenues for e-books will reach between $1 billion and $3.4 billion by 2005. That same study predicted that e-books will account for 10 percent of the publishing market by 2004.
NetLibrary pointed to Stephen King's digital-only release of the novella "Riding the Bullet" as evidence that e-publishing is gaining widespread acceptance among the general public. NetLibrary stated that more than 400,000 copies were downloaded through different Web sites in the first month following the novella's release, and over 500,000 copies have been downloaded to date.
Watching Out for Glitches
NetLibrary conceded, however, that King's effort was hampered by "connection errors and other problems" that it could also encounter, adding, "Our business would suffer if consumers experience significant delays of other difficulties in accessing or downloading electronic books from our Web site."
Online publishers such as NetLibrary must also contend with misgivings from publishers and authors alike. NetLibrary said the traditional publishing industry is reluctant to go digital largely due to copyright concerns, while authors of books distributed on the Web worry they will lose control of the distribution of their works.
Donations Speak Volumes
NetLibrary is making efforts to change attitudes, however. In January, the firm began donating 150,000 digital volumes to 100 public libraries across the United States.
Last October, the company raised $70 million in venture capital funding — one of the largest single infusions of investment money garnered by a Colorado online company — from investors that included publishers Houghton Mifflin and McGraw-Hill and book distributors Follett Corp. and Blackwell Ltd.