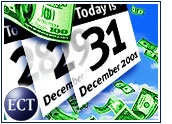 Meet the new rules of e-commerce. Turns out, they are the same as the old rules.
As online retailing enters the early stages of maturity and profitability becomes the rule rather than the exception, e-businesses might find they need only reset their goals rather than alter their entire approach.
"A lot of what e-tailers were trying to do, in terms of customer attraction and retention and brand-building, was fundamentally sound as a way to approach a new industry," Wharton School of Business professor Peter Fader told the E-Commerce Times. "The questions were about execution and scale."
Indeed, although the initial impulses of dot-coms might have been a little overzealous — customers were bought rather than acquired, for instance — the rules have not really changed. And e-commerce continues to grow, even though companies that grew too quickly and flew too high have fallen by the wayside.
Rule #1: Acquire Customers, Don't Buy Them
This rule is not so much a law of e-commerce as a law of nature: You cannot sell something to people if they do not visit your Web site in the first place.
In the late 1990s, e-tailers tried to solve this problem by buying customers. The result was a price war that online shoppers loved but that led to continued financial losses. Even those losses would have been all right if the bottom had not dropped out of the stock market.
"It's hard to imagine what might have happened to some of those companies if their stocks didn't tank," Fader said. "Timing is everything, and they didn't get the benefit of the doubt long enough to prove their business plans."
Today, some e-tailers continue to try to attract customers with low prices and gimmicks like free shipping. But analysts say convenience is what wins customers over the long term, which leads to rule number two.
Rule #2: Keep the Customers You Have
Even in these days of austerity, customer acquisition is still an expensive proposition, so it is vital to keep customers happy.
"A repeat customer pays big dividends," Boston Consulting Group vice president Peter Stenger told the E-Commerce Times. "Companies are learning that if they deliver, the customer will come back."
The foundation of this rule is to always meet or exceed expectations before, during and after a purchase. E-tailers have always known this, Stenger said, but they erroneously thought early on that it meant providing ever-bigger discounts.
"There are a lot of satisfied e-commerce customers out there, and that's the best thing you can say for the industry's long-term health," he added.
Rule #3: Brand Still Rules
The delirious rush to have the catchiest, most easy-to-remember brand name careened more than a little out of control as the boom gathered steam, with domains selling for millions of dollars and companies that had barely sold anything buying Super Bowl ads by the helmet full.
But as it turns out, there really is value in a short, snappy dot-com name. Just ask the companies that bought such monikers as Pets.com and eToys.
KBToys bought the eToys domain because that failed startup had "spent four years building a brand," KB spokesperson John Reilly told the E-Commerce Times shortly after the purchase.
And as Nielsen//NetRatings analyst Kim Pillon told the E-Commerce Times, "Some of the resurrected dot-com names have paid off handsomely, at least in terms of traffic; they had recognition with people, and that's valuable in a lot of ways."
Indeed, sites ranging from Furniture.com to MotherNature.com have reappeared on the Web in new incarnations after the originals faded away or flamed out.
Rule #4: Be Optimistic But Realistic
This last rule clearly was ignored more than any other in the dot-com rush to market. But it is sound business practice, a good way to avoid the type of overextension that often leads directly to the nearest bankruptcy court.
"One reason there were so many dot-com layoffs is that companies hired for what they thought would happen," John A. Challenger, CEO of outplacement firm Challenger, Gray and Christmas, told the E-Commerce Times. "There were unrealistic expectations all around."
It also did not help that many dot-com jobs were high-paying positions filled by people with little experience, Challenger noted.
"The old-fashioned rules apply to e-commerce; they always have," said Wharton's Fader. "The companies that realized that first are going to be around a long time."