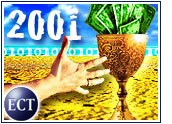 Before the first month of the year was over, it was clear that 2001 was going to be different than other years in the short history of e-commerce.
In late January, leading e-tailer Amazon.com (Nasdaq: AMZN) announced plans to lay off 1,300 workers and lowered revenue estimates for the year. But at the same time, Amazon made a pledge: It would turn in pro forma operating profits by the fourth quarter.
As often happens when bellwether companies speak, others soon followed suit, talking about the profits the battered stock market so badly wanted to hear. Before long, 2001 became the year of the e-commerce profit quest.
Back in the Black
By year's end, several e-commerce companies across a handful of sectors would be in the black — but not without serious changes to the industry and some hardships along the way.
"It wasn't just a shift to profits," Forrester Research analyst Christopher Kelley told the E-Commerce Times. "It was a turn toward multichannel selling and profits at the same time, for the most part."
Many e-commerce firms found they had to downsize in order to make it happen, helping to prompt about 100,000 dot-com layoffs during the year, according to Challenger, Gray & Christmas.
Rule Breakers
As with all rules, there are exceptions, but not that many. EBay (Nasdaq: EBAY) continued its impressive run of profitable quarters and did so without giving up on its own lofty growth targets.
However, even EBay was forced to streamline operations when it decided to absorb its fixed-price e-tail site, Half.com, into the parent company.
"There were success stories amid all the wreckage," Morningstar.com stock analyst David Kathman told the E-Commerce Times. "EBay has held up amazingly well, is still very profitable and with the stock up 110 percent for the year."
Most other lesser-known dot-coms that became profitable in 2001 did so as part of an overall, multichannel strategy, Kathman noted. Notable first-time profit generators in 2001 were FTD.com and 1-800-Flowers.com.
Taking Off
Online travel also became the stomping ground of several profitable companies in 2001.
In August, Priceline.com (Nasdaq: PCLN) completed an impressive turnaround to record a pro forma profit. Rival travel sites Expedia (Nasdaq: EXPE) and Travelocity (Nasdaq: TVLY) have also managed some profitable quarters and by year's end, Orbitz, the controversial airline-backed company that debuted over the summer, said it would be profitable by mid-2002.
The sector itself has proved itself remarkably resilient as well. Though the September 11th terrorist attacks prompted a short-term plunge in online travel bookings, most companies had recovered within two months.
Staying Put
Other companies learned that becoming profitable and staying that way are two different things, especially in hard economic times.
For instance, online realtor Homestore.com (Nasdaq: HOMS) had been among the first Internet companies to turn a profit, but by the end of 2001, it was dealing with massive layoffs and other woes.
And 2001 will be remembered by many as the year that Yahoo! (Nasdaq: YHOO) fell out of profitability, prompting a sweeping reassessment of the portal's business model. The result has been a slew of new product offerings, premium services and advertising and marketing deals.
"I think we'll see a lot of the same themes in 2002," said Forester's Kelley. "Online retailers especially were so focused on [achieving profitability], because the market demanded it, that a lot of them didn't consider how to sustain themselves long-term."