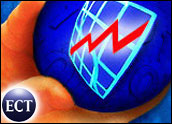 The dot-com shakeout is not the big e-commerce news of 2000. It should surprise no one that a raft of new companies that pinned all their hopes on a flawed business model were doomed to fail. The headline of the year is this: "The People Bought E-Commerce."
They like it. They really do.
In spite of the general downturn in the U.S. economy, a recent report from BizRate.com showed that shoppers spent more than US$6 billion online during the past holiday season, up 60 percent from last year.
If the brick-and-mortar sector could claim anything even close to that kind of growth spurt, investors would be turning cartwheels.
But once the media-analyst complex decides to go negative, there is no good news — only varying sizes of hailstones in an unremitting storm of fear, uncertainty and… drivel.
Breaking the Sisyphean Cycle
E-tailers couldn't seem to do anything right last year — judging from the headlines — but a closer look reveals that many dot-commers learned important lessons and climbed to new heights in defiance of the spinmeisters.
Consumers were badly burned during the 1999 holiday season. After a lot of toddlers didn't get their toys, it didn't take genius thinking to recognize the critical importance of order fulfillment and customer service. But it's one thing to see a problem, and quite another to eliminate it.
With huge investments matching enterprise-wide commitments, many companies did just that in 2000 — or they came admirably close.
A study released by Andersen Consulting in mid-December gave shoppers using the Internet to order holiday gifts a 92 percent chance of getting on-time delivery, compared with the 75 percent likelihood reported in the firm's 1999 study of holiday e-commerce fulfillment issues.
Robert Mann, an associate partner at Andersen Consulting, said the study suggests U.S. e-tailers learned from last year's mistakes and developed methods to improve execution of their e-fulfillment and supply chain strategies.
For example, clothing retailer Nordstrom.com won the top customer experience ranking in a review of online apparel companies by Forrester Research. "Nordstrom's top scores in features, delivery and returns put it over the top," said Tom Rhinelander, senior analyst at Forrester.
Consumers Use Common Sense
Shoppers were willing to meet e-tailers at least halfway, too, by shopping earlier this year to avoid delivery problems.
"Cautious consumers started shopping earlier to ensure that gifts were delivered on time, while more experienced retailers encouraged early shopping so they could better manage the load," PC Data Online analyst Cameron Meierhoefer said.
In a survey released by Goldman Sachs/PC Data Online, 40 percent of respondents said that their online shopping experience was better than in 1999, and only 5 percent said it was worse.
True, e-commerce companies that couldn't manage to find the business structure, the plan or the money to give the people what they wanted ended up with their corporate faces in the dust, and rightly so. However, it is flawed logic to conclude that because a number of companies failed, the industry as a whole is crumbling.
Going for the Burn
Rather, as the firms that lack a solid foundation disappear from the landscape, the strongest are left standing amid the rubble. The entire process is predictable and healthy. Like a controlled burn in an overgrown forest, the e-commerce shakeout is thinning out the deadwood to help little seedlings grow into mighty trees.
Industry insiders like things plain and simple. But it was never really true that anything with a dot-com after its name could draw millions of dollars in venture capital funding. Nor is it presently true that the venture capital stream has gone dry.
Venture capitalists (VCs) are doing pretty much the same thing today they were doing a year or so ago — looking for organizations that show the most promise — and after another year of watching the e-commerce saga unfold, they have more knowledge and experience to enlighten the decision-making process.
Ending the Misery
For one thing, VCs are not likely to spend heavily on second-round financing to prop up a company that reveals itself to be fundamentally unsound. However, putting an end to pointless cash-burning should not be construed as refusal to allow a venture to mature.
Shakeout or not, there is still plenty of venture capital to be had by Net startups, according to Internet.com chief executive officer Alan Meckler. While marketplace pressures have increased, Meckler said, so too has the amount of money available to entrepreneurs.
"One of the ironies about the shakeout is that there is still a lot of money, because a lot of funds were raised and closed before the shakeout," Meckler recently told the E-Commerce Times. "Billions of dollars are invested each week."
In fact, there may be "more money available than investors know what to do with," Meckler said.
The fact that VCs are still funding start-ups is an indication of confidence in e-commerce — not a short attention span on the part of investors. E-commerce companies that can forecast profits with a reasonable degree of conviction are getting the financial support they need.
Dot-Com Revolving Door
While the failures get their 15 minutes of fame, dot-com diehards are moving toward the light. Laid-off dot-com employees don't mope their way over to the unemployment office, and if they do, they probably have a job offer in hand before they get to the front of the line.
That's because for every layoff, there is a startup somewhere looking to double its head count. And that in turn is because venture capitalists are funding startups looking to be part of the next wave of Internet and e-commerce evolution.
Even so, some dot-coms are spurning offers of venture funding to make it on their own. Small companies like Shoebuy.com, perfume seller Fragrancenet.com and discounter Overstock.com made e-commerce news by reporting profits in the midst of pervasive dot-com gloom.
Analysts attribute the success of some online retailers to setting less ambitious goals than their fallen counterparts. Smaller, more conservative dot-coms that resist venture capital money don't end up buckling under pressure to grow too fast.
So the Nasdaq isn't up in the 5000s anymore and IPOs aren't creating instant paper billionaires. The crazy tech party is over, but the pundits who color e-commerce 2000 in bleak shades of gray may still be suffering from a hangover.
They buried the lead. It's been a very good year.