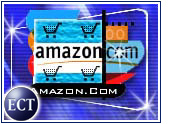 Amazon.com ranked as one of the top online retail sites in markets worldwide during November — the only multinational brand to do so — according to data released Thursday by Web measurement firm Media Metrix and its European affiliate, Jupiter MMXI.
Survey results for the month showed that Amazon beat back its competitors to become the most visited e-tailer in Australia, Canada, the UK and the United States. In addition, the company placed among the top five Web retailers in Brazil, Denmark, France and Japan.
Although there has been an increasing tendency among global e-shoppers to purchase from local online brands — possibly signifying that the dominance of U.S. sites in foreign markets is on the wane — Amazon's strong showing managed to buck this trend, said the study.
No. 1 and No. 2
Amazon actually took the top two spots in the UK. The e-tailer's UK site attracted 1.75 million unique visitors in November, while the main Amazon site added 993,000 more.
The company also garnered 1.22 million visitors from Canada and 461,000 from Australia.
E-tailer Submarino.com topped the charts in Brazil, fashion outlet Haburi.com led in Denmark, Fnac.com led in France, and Rakuten led in Japan.
Leading U.S. E-tailer
Within the U.S., the study found that with roughly 14.5 million visitors for the month, Amazon drew nearly twice as many online consumers as did the second top e-tail site, AmericanGreetings.com. In addition, nearly 19 percent of all Internet users visited Amazon.
The figures dovetail with several other recent studies showing Amazon's dominance over the e-commerce sector. A report released Thursday by U.S. Bancorp Piper Jaffray and Harris Interactive found that the Seattle, Washington-based company was the top e-tailer in November, with over 21 percent of all online shoppers making a purchase from the site.
Another survey issued this week, from Goldman Sachs and PC Data Online, said that Amazon led e-sales in the books, music, videos and toys categories for the week ended December 10th.
World E-Commerce
Overall in the U.S., the report said that more than 68 percent of all home Internet users visited online retail sites in November. By comparison, just under half of their counterparts in the UK, Canada and Japan shopped via the Web during that period.
Pointing to the growing influence of women on e-commerce, the study said that while more men than women are online in Japan and Canada, women in both countries comprise the majority of visitors to retail sites.
Brick-and-Clicks Strong
Media Metrix data also showed that many U.S. online consumers are flocking to brick-and-clicks — companies that have aimed to build their Internet operations on their physical brand — to make their purchases.
The fourth and fifth top e-tailers for November were Toysrus.com, with more than 5 million visitors, and BarnesandNoble.com, with over 3.8 million.
A separate report from Media Metrix last week also concluded that traditional retailers are increasing their online market share, as consumers forgo newer e-tail entrants in favor of familiar names with established reputations. In fact, the study found that 8 of the 10 fastest growing sites belonged to traditional stores.