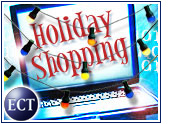 After getting off to a strong start this holiday season, e-tail sales saw a "significant, unanticipated deterioration" in the week ended December 10th, according to the latest weekly survey by Goldman Sachs and PC Data Online.
The study, released Monday, found e-tail sales are higher than 1999 levels, but that the gains were less than had been hoped for.
Online sales for the most recent measured week were US$1.52 billion, up 14 percent from the prior week and 24 percent from the same week in 1999. For the holiday season to date, sales were at about $7.2 billion, up 115 percent from the same period last year.
However, the increase of total sales has fallen below the 170 percent year-over-year gain seen at this time last year, a "much faster decline than expected," Goldman analyst Anthony Noto wrote in a report.
Losing Momentum
According to Goldman, sales were running more than 250 percent ahead of 1999 levels throughout most of November, leading analysts to predict a winning quarter for e-tailers.
Then in last week's survey, Goldman and PC Data found that sales tapered off in the week after Thanksgiving.
"We believe the deterioration will continue, and online sales for the holiday quarter will likely be at the low end of our 50 to 100 percent year-over-year estimated gain," Noto wrote.
Desire Remains
The new study did find that 77 percent of consumers plan to spend at least as much online as they did last year. Noto added that customer satisfaction also remains high, with 78 percent of those surveyed saying they were likely to buy online again.
The biggest problem with shopping online for 52 percent of consumers was running into out-of-stock items, according to the survey.
Amazon.com remained the market leader in several key categories, which Noto attributed to the "depth and breadth" of the company's product selection.
Amazon Retains Lead
Amazon led in e-sales of books, music, videos and toys. The company came in fifth in electronics sales, behind Bestbuy.com, auction sites in general, Circuitcity.com and Radioshack.com. Bestbuy.com had 16.8 percent of the electronics e-market share, while Amazon had just 7.4 percent.
Noto said that smaller e-tailers appear to be suffering the most in the holiday e-tail competition.
"Given the negative press surrounding e-commerce, we believe that those companies that have a larger customer base and a consistent reputation for high customer service have garnered market share from the smaller players," he said.
Other studies have shown that traditional retailers are gaining online market share, with analysts saying that consumers prefer to turn to familiar names with established reputations. Jupiter Media Metrix said Friday that eight of the ten fastest growing sites belonged to traditional stores.
Stock Slump To Continue
Noto expects e-commerce stocks to continue their slump until the middle of next year.
"Only companies with sufficient capital, clear market leadership, scaleable infrastructure and clear profitability profiles will see sustainable price appreciation from a strong holiday season," he wrote.
Separately Monday, Noto lowered his investment ratings and earnings forecasts for e-tailers Barnesandnoble.com (Nasdaq: BNBN), eToys (Nasdaq: ETYS), Webvan (Nasdaq: WBVN), Ashford.com (Nasdaq: ASFD) and PlanetRx (Nasdaq: PLRXD). The changes, he said, reflect a "deteriorating outlook" for the e-commerce sector.