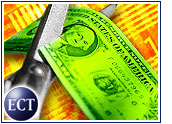 E-tailers should not pin their hopes on strong holiday sales of big-screen TVs and high-end stereo systems, because consumers are not looking to the Internet for these purchases, according to a new survey from cPulse, a unit of the Gartner Group.
"Consumers' likelihood of purchasing consumer electronics online is falling, and defection is high," cPulse said.
The cPulse survey, based on interviews with 2,548 visitors to consumer electronics sites between April 1st and September 30th, found that the main cause of the decline was the e-tailers' poor customer service and support.
"The average Internet consumer isn't ready to make a high-risk purchase unless the appropriate levels of support and product knowledge are provided," said cPulse analyst Michael Hochster. "Consumer electronics clearly fit the bill of a high-risk purchase: they're expensive, they're consumed over several years, they require a high degree of specialized knowledge to understand, and they're very visible to one's peers."
Customer Defections
According to cPulse, the number of online consumer electronics shoppers who said they were "very likely" to buy something again from the same site fell from 25 percent in June to less than 18 percent in September.
"We've seen everyone from brand-name manufacturers to well-known retailers to unknown dot-com start-ups make a play for market share in the online consumer electronics industry," cPulse executive vice president Jody Dodson said. "Unfortunately many of these e-tailers forgot what sells consumer electronics. It's customer support, both before and after the sale."
More than half of the consumer electronics shoppers surveyed during the third quarter said they were extremely dissatisfied with the level of customer support they received from their online stores. By comparison, 27 percent of online shoppers at non-consumer electronics sites were dissatisfied.
Practical Answers
cPulse analyst Hochster told the E-Commerce Times that the customer support provided by online retailers needs to simulate the kind available in a brick-and-mortar store as much as possible.
For example, Hochster said, companies could use chat technology to enable customers to communicate with salespeople.
"That way, you can sort of feel you can get access to a human being when you're on the site," Hochster said.
Question-and-answer guides that help customers narrow choices would also help people feel "not quite as at sea" on Web sites, while better access to telephone support would also improve the experience for buyers, Hochster said.
Conflicting Views
Consumer electronics was among the worst performing e-tail sectors in September, according to a report from the National Retail Federation and Forrester Research. Sales fell to US$164.6 million in September from $209.1 million in August, the report said.
Other reports, though, paint a brighter picture.Goldman Sachs and PC Data Online said consumer electronics followed apparel and toys as the biggest draw for e-shoppers this holiday season.
The study, conducted before the holiday rush began, predicted consumers will buy $61.16 million worth of electronics online, with gifts accounting for 44.1 percent of that figure.