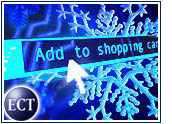 Americans spent US$1.3 billion online during the week surrounding Thanksgiving, an increase of 140 percent over the same week in 1999, according to a survey released Tuesday by Goldman Sachs and PC Data.
Goldman Sachs analyst Anthony Noto said that early indications point to holiday online sales doubling the numbers from the 1999 holiday season.
"Nearly 90 percent of home Internet users stated they planned to spend more this year online than last year, and two of the largest online shopping weeks lie ahead," Noto said.
Travel Sites Frequented
Holiday spending predictions for 2000 have ranged from the Yankee Group's estimate of $9 billion to forecasts of $12.5 billion from both eMarketer and the NPD Group. Jupiter Communications (now Jupiter Research) pegged the number at $11.6 billion.
According to Goldman Sachs, travel sales generated the most online income of any category during the period from November 19th to 27th, as last minute voyagers logging on to make reservations helped lift spending to $215 million.
Other notable categories in the survey of 3,333 Internet users included: computer hardware, $170 million; apparel, $136 million; toys, $117 million; and electronics, $95 million.
Problems Encountered
Despite the record amounts of money spent online during the week, 31 percent of online holiday spenders told Goldman Sachs that they encountered problems during the e-shopping process.
Of these frustrated shoppers, 47 percent said that items they were looking for were not in stock, 30 percent said they could not find the items they were seeking and 26 percent said they had difficulty accessing or navigating a retail site. (Respondents were allowed to note more than one problem.)
Shoppers Undeterred
Despite the glitches, the Goldman Sachs/PC Data survey found that nearly 80 percent of those who bought online during Thanksgiving week are extremely likely or very likely to continue shopping online.
Only 5 percent said that they were not very likely, or not at all likely, to continue shopping online.
"During the holidays, retailers in all channels are challenged to maintain inventory of hot gifts, and Internet retailers are no exception," PC Data Internet analyst Cameron Meierhoefer said. "But the market for 'hot' items such as Playstations favors online retailers, because it's convenient and easy to gauge availability and cuts down the frustrations of telephone or drive time."
Notably, observers attribute many of the outages that e-tailers are experiencing to parents flocking to e-tailers in order to purchase PlayStation 2 video game consoles.
Bug Repellent Needed
Many popular e-tailers, including Amazon, have been plagued with glitches and outages in recent weeks. Amazon, eToys and BestBuy all experienced outages the Friday after Thanksgiving, and other e-tailers were slower than normal.
Last weekend, upgrades and attempted improvements to Walmart.com caused three blackouts, ranging in length from an hour to 90 minutes.
Notably, a survey released in October by consulting firm Creative Good predicted that glitches could cost e-tailers up to $15 billion this holiday shopping season.
Also, the Goldman Sachs/PC Data study is not the only indication that things are looking up for e-tailers this holiday season. Numbers released last week by Media Metrix reveal that e-tailers received 35.2 million unique visitors during Thanksgiving week, representing a 40.3 percent increase over the same period last year.