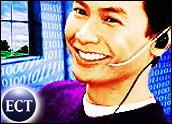 Online businesses unmistakably want to augment their customer relations with everything from instant messaging to real-time online voice conversations, as studies, analysts and experience have convinced the industry that high-tech customer service is key for retaining customers.
However, poorly instituted live interaction has the potential of alienating more customers than it would help, leaving companies treading very gingerly toward implementation.
Writing on the Wall
A study this year by Datamonitor found that U.S. businesses lost more than $6.1 billion (US$) in potential Internet sales in 1999 because of poor online customer service, and estimated that an industry-wide failure to resolve the problem could lead to at least $173 billion in lost revenues through 2004.
Additionally, Datamonitor reported that 7.8 percent of online transactions initiated by consumers are abandoned because of poor customer service.
Obviously, no one thought that sub-standard customer service was a boon for business. But until relatively recently, few companies seemed to realize just how negative the impact could be.
"It's definitely appearing as more companies are finding out they really require live interaction in order to promote customer loyalty," Giga Information Group senior analyst Elizabeth Herrell told the E-Commerce Times. "It's seen as a business necessity."
Choices, Choices
So what's the holdup? The general course of action seems obvious — get live interaction. However, Brian Huff, an analyst with research firm Datamonitor, estimates that only 3 percent of e-commerce Web sites currently use live chat.
"What companies do before they jump into the CRM [Customer Relationship Management] frenzy and start buying everything that's known to man in CRM, they have to decide how they want to be and how they want to interact with customers," Huff told the E-Commerce Times.
Live interaction becomes an e-tailer's highest profile human interaction with a customer, meaning that everything has to be tuned to a perfect pitch.
"Call centers haven't had much glory at all," Huff said. "All of a sudden [live interaction] is thrusting them into the spotlight, allowing them to interact with everyone online."
Getting Their Cue
For example, Huff said, customer service managers must be able to route telephone calls, e-mails and requests for Internet chats to the appropriate agents without error.
"That's one of the major roadblocks," Huff said. "That's paramount with this technology."
Additionally, customer service agents, whose previous role has chiefly involved the telephone, must now be able to incorporate the typing, spelling and grammar skills to handle real-time interactive chat with restless consumers.
Finally, and perhaps most crucially, the revamped customer service must integrate seamlessly not only with the company's existing Web site, but the company's entire operations, online and offline.
Lands' End Begins
According to Huff, the Web site of brick-and-click apparel retailer Lands' End — which in September 1999 became one of the first companies to institute live interaction — offers perhaps the preeminent online model.
Lands' End spokesperson Beverly Holmes told the E-Commerce Times that Bill Bass, senior vice-president of e-commerce and international, pushed hard for live interaction early on. Additionally, Lands' End utilized a core of service and sales agents who averaged nine years of tenure with the company.
Nonetheless, it still took Lands' End two months to decide to contract WebLine (now owned by Cisco Systems) to design the system, and four more months to put the new system in place.
Quick Response
Now, Lands' End Live offers several customer service capabilities, starting with the option of instant chat from a service agent. That agent can not only answer questions, but also make shopping recommendations — causing single or split-screen Web pages to open right up on the customer's browser.
Customers with a second phone line can request that a Lands' End agent call them, enabling simultaneous Internet and telephonic service. The return call usually arrives in well under a minute and often within 10 seconds.
"So far the feedback on Lands' End Live has been extremely positive," Holmes said. "[Customers] are amazed by the technology; they're amazed by how quickly people get back to them."
Holmes said that Lands' End does not have statistics that directly track the financial impact that live interaction has had on sales. She did say, however, that online sales for Lands' End improved from $61 million in 1998 to $138 million in 1999.
Where Are We Headed?
It does appear that the pace of instituting live interaction will pick up, as spending on eServices software is expected to increase from $162 million at the end of 1999 to $1.95 billion by 2004, according to Datamonitor.
"I'm seeing a wide range of companies from established vendors, from service companies to startups, all providing this type of service," Herrell said.
Furthermore, more companies are coming to terms with the cost of live interaction, realizing that not only in the online omelet business do you have to break some eggs.
"If you're getting into assisted services, they are more expensive," Herrell said. "But then you're looking at the cost of not retaining a customer."
The Coming Years
As more companies drift toward live interaction, more options will be made available, and therefore more complexity.
For example, Voice-Over Internet Protocol (VOIP), through which customer service agents and consumers can communicate verbally over their computers using microphones and speakers, will arrive within the next five years, according to Huff.
"The capacity is here now, but the installation base isn't very high," Huff said. "It's minuscule."
Desire + Patience
According to a May study by Datamonitor, 25 percent of Web-enabled call center solutions by 2004 will encompass e-mail, self-service and live interactive help. In other words, ubiquity is still a long way off.
"People are actually working up to it," Huff said.