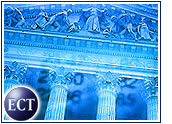 During the year, the Federal Open Market Committee of the U.S. Federal Reserve has lowered its interest rate target from 6.5 percent to 2.5 percent, its lowest level since the John F. Kennedy administration.
What follows are excerpts from statements that tech companies and investors have heard from the Fed following each of its nine rate cuts in 2001.
Winter Worry
"To date there is little evidence to suggest that longer-term advances in technology and associated gains in productivity are abating." – January 3rd, rate lowered to 6 percent.
"Consumer and business confidence has eroded further, exacerbated by rising energy costs that continue to drain consumer purchasing power and press on business profit margins." – January 31st, rate lowered to 5.5 percent.
"Although current developments do not appear to have materially diminished the prospects for long-term growth in productivity, excess productive capacity has emerged recently." – March 20th, rate lowered to 5 percent.
Spring Solemnity
"This potential restraint (in capital spending), together with the possible effects of earlier reductions in equity wealth on consumption and the risk of slower growth abroad, threatens to keep the pace of economic activity unacceptably weak." – April 18th, rate lowered to 4.5 percent.
"A significant reduction in excess inventories seems well advanced. … Investment in capital equipment, however, has continued to decline." – May 15th, rate lowered to 4 percent.
Summer Slump
"The patterns evident in recent months — declining profitability and business capital spending, weak expansion of consumption, and slowing growth abroad — continue to weigh on the economy." – June 27th, rate lowered to 3.75 percent.
"Household demand has been sustained, but business profits and capital spending continue to weaken and growth abroad is slowing, weighing on the U.S. economy." – August 21st, rate lowered to 3.5 percent.
Heading for a Fall
"Even before the tragic events of last week, employment, production, and business spending remained weak, and last week's events have the potential to damp spending further." – September 17th, rate lowered to 3 percent.
"The terrorist attacks have significantly heightened uncertainty in an economy that was already weak. Business and household spending as a consequence are being further damped." – October 2nd, rate lowered to 2.5 percent.