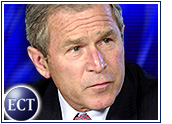 According to published reports, President George W. Bush on Wednesday signed into law a bill that renews the ban on key taxes related to the Internet and e-commerce.
The legislation extends for an additional two years a moratorium that prevents the state and local governments from imposing new taxes on Internet businesses.
Congress passed the first ban on Internet taxes in 1998 with the goal of promoting growth of the fledgling medium. The law kept state and local governments from imposing new taxes that might discourage businesses from adopting e-business and selling products and services over the Web.
Bush reportedly said that the legislation would promote growth of the Internet, and that "holiday shoppers will not be burdened by new taxes on their online purchases."
Window Closes
There was a brief window in which the earlier ban had lapsed on October 21st and the new ban was not yet law. However, no new Internet taxes were passed during that time.
Although various state governments held meetings and discussed the ways that they could gain revenues from taxing Internet sales — and do so in a consistent way that would not burden e-businesses — most observers expected Bush to sign the extension.
As a result, the state meetings focused on long-term goals.
Access Fees Included
The legislation also extends a ban on taxation of Internet access fees — a provision that was much less contested than the sales tax issue.
"I don't think anyone wants to tax Internet access," Forrester Research online taxation analyst Jeremy Sharrard told E-Commerce Times earlier this month. "Congress wants to ensure that states don't get desperate in a down economy and, faced with a revenue shortfall, attempt to levy taxes" on ISPs.
The U.S. Senate passed its extension of the ban on November 15th. The U.S. House of Representatives passed matching legislation in October.
Was It Necessary?
Despite concerns from federal officials that taxes will stifle growth of the Internet economy, industry and government observers told the E-Commerce Times earlier this month that had the moratorium not been extended, e-commerce was destined to adjust.
Giga Information Group research leader for e-business Andrew Bartels said that e-commerce is well beyond the point where it needs special protections to survive. Giga has estimated that online sales revenues will total $60 billion in the U.S. for 2001, and that the rise in popularity for Internet shopping is attributable to a number of non-tax factors, including convenience, selection and pricing.
"There's no justification for keeping the moratorium," Bartels told the E-Commerce Times. "You're not killing e-commerce by treating all commerce in the same way. The government should not be in the position of creating incentives to buy things online."
However, Aaron Lukas, analyst at the Cato Institute's Center for Trade Policy Studies, told the E-Commerce Times in August that because online retail sales still account for less than 1 percent of all retail activity, tax revenue losses to states related to Internet shopping have been "trivial."