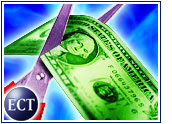 Internet portal Yahoo! (Nasdaq: YHOO) on Wednesday reported a net loss of US$24.1 million, or 4 cents per share, for the third quarter ended September 30th. However, during a conference call following the release of its earnings report, Yahoo! chairman and chief executive officer Terry Semel said that the online giant will rebound once the overall economy does.
"Yes, this is a down market," Semel said. "Yes, it's unclear when the economy will pick up. Yes, advertising spending is closely tied to the overall health of the economy. But when things do begin to turn around, Yahoo! will have refined its capabilities. … Yahoo! has tremendous potential to take a great share of the online market."
Semel did indicate that Yahoo! might reduce its workforce following a "strategic review" of all 44 of its business units. Semel said that details of that review are scheduled to be revealed November 15th.
Revenue Tumbles
Wednesday's announcement crystallized Yahoo's reversal of fortune from a year ago, when the company's net income was $47.7 million, or 8 cents per share.
Yahoo! reported net revenue of $166.1 million for Q3 2001, compared to revenue of $295.5 million in Q3 2000 — a 43.8 percent drop. Yahoo! also suffered investment losses during the quarter of $17.9 million.
However, Yahoo! did meet analyst expectations by posting pro forma net income of a penny per share, or $8.4 million.
Toughening Up
"Through fiscal discipline, Yahoo! delivered on our revenue and profitability projections in the third quarter while managing through a challenging economic environment," Yahoo! chief financial officer Susan Decker said. "We remain focused on building strong customer relationships which facilitate a higher quality revenue mix, in addition to identifying and investing in areas that will drive long-term, profitable growth."
Stock investors apparently felt that Yahoo! had been beaten down enough. In trading Wednesday before the after-hours release of the earnings report, Yahoo! stock closed up 77 cents, or 7.6 percent, at $10.93. Yahoo! then shot up an additional 67 cents, or 6.1 percent, to $11.60 in the first 60 minutes of after-hours trading.
Deutsche Banc Alex. Brown said it was maintaining a market perform rating on Yahoo!, saying that it expected the stock to trade between $8 and $10 over the next year, "pending evidence of improving growth prospects."
At the Core
For the fourth quarter, Yahoo! predicted that pro forma earnings before interest, taxes, depreciation and amortization (EBITDA) will range from a $5 million loss to a $10 million profit, with pro forma earnings per share to be breakeven to a penny.
Yahoo! added that it expects revenues from business and premium services to represent approximately 20 percent of total revenue in the fourth quarter and for the full year 2001, with marketing services and commerce accounting for the remainder.
"We have made progress in the past three months — focused the company," Semel said. "Our core business remains unchanged. We continue to focus on advertising and marketing, business and enterprise, and consumer pay services."
Semel made multiple references to the latter Wednesday, saying that among other pursuits, Yahoo! will focus on pay services that "leverage our expertise in personalization."
Diversity Now?
Yahoo! has been under intense pressure, both from inside and outside the company, to find revenue streams beyond the advertising world. However, even as Semel made statements reinforcing that need, he emphasized the value of online advertising.
"Over time, [online advertising] will prove to be one of the most effective vehicles to target customers, all at a very reasonable comparative price," Semel said.
At the same time, Yahoo! will also seek out acquisitions and "major strategic alliances with large companies," Semel added.