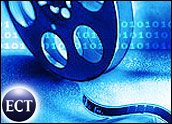 O say, can you see "O"?
Internet users looking to buy tickets for the film adaptation of William Shakespeare's "Othello" might have wondered. Typing "O" into the search box of some of the most prominent Web movie ticket sales sites produced no information about where or when you could see the movie. You had to find "O" through a mixture of pluck and luck.
This 0-for-"O" outcome hints at some of the problems a first-time user might have buying movie tickets on the Web.
By and large, if you know what movie you want to see, and that movie has a more conventional title than "O," you can buy tickets online easily (keeping in mind that not all movie theaters participate in online ticket selling). Additionally, it is usually true that the more you use a site, the more you learn to navigate its quirks.
However, when most people go to use a movie ticket site for the first time, they are probably in a hurry to get the job done. So if you log on without having picked your flick, your online experience might end up being as enjoyable as "Problem Child 3."
With that in mind, the E-Commerce Times took it upon itself to evaluate three sites — Moviefone.com, Fandango and Movietickets.com — from a first-timer's perspective.
Moviefone Bugs Out
For what it's worth, Moviefone was the only one of the three sites in which "O" could be found via the search box. More importantly, the America Online-owned site provides useful links to lists of restaurants and bars close to a given movie theater — courtesy of Digital City.
However, during our visits, the site had enough glitches to make one think we had requested tickets for "A Bug's Life."
We checked the site several times over several days. Sometimes a search yielded results. Other times, the same search did not, instead giving us the following message: "We're Sorry. No current movies matched your request. Check your spelling and try again." (For the record, our spelling was fine.)
If the goal was to see any of Moviefone's most requested movies, then the process could not be easier. Click on the movie title, and that was that. But if you wanted, as they used to say on "The Joker's Wild," to go off the board, Jack, then you had to prepare for frustration.
During our initial visit, we also tried Moviefone's search-by-genre function. Again came the "Were sorry" message. The next morning, we tried searching again and had success. Later that morning, failure. Needless to say, those haphazard results are as good a reason as any to consider searching for tickets at another Web site.
Tango with Fandango
While avoiding the bugs that Moviefone had, Fandango had some quirks of its own.
Perhaps the biggest difficulty with Fandango came when searching for a movie by theater location. After typing in the ZIP code, we were given a grid displaying five theaters across the top and 10 movies going down the side. To look for more options, we had to click in two directions — an awkward process.
On top of that, theaters that were 30 miles away from our ZIP code were presented before theaters that were three miles away. Woe to the person who has a slow Internet connection while trying to find the perfect theater this way.
Finding a specific type of movie on Fandango posed problems as well. Clicking the Browse Comedy option, for example, yielded a time-consuming list of movies nine Web pages long. This list is not complete enough to be a reference guide, like the Internet Movie Database. At the same time, it is not a current listings guide either because it includes many films not showing in theaters today.
Movietickets Punched
In contrast to Fandango, Movietickets easily allows you to manage the list of theaters the site presents. Once you type in a movie, you can quickly expand the scope of your search for theaters in five-mile increments from your ZIP code, slowly panning out until you find a time and place that suits you — no ifs, ands or bugs about it.
Perhaps the main problem with Movietickets is that if it has any browse capabilities, they are hidden from plain sight. With the other movie ticket sites, knowing in advance what movie you want to see helps. With Movietickets, it is essential. The site does not offer any immediatate suggestions outside of the box office top 10.
And the Oscar Goes To …
All three movie ticket sites have their pitfalls. If you know the name of the movie you want to see, then Movietickets will be easy to use. If you are looking for suggestions, Moviefone will serve you well, assuming the site's bugs are dormant.
In any case, it might not be time to abandon alternate sources of information just yet. If at all possible, know what you want to see, and where you want to see it, before you visit these sites to purchase tickets.
Preparation will reduce aggravation, which you can then have at your disposal the next time you try to find a parking space near the movie theater.