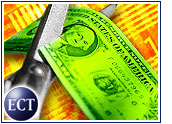 Troubled toy e-tailer eToys (Nasdaq: ETYS) moved to the dot-com critical list Thursday, announcing that approximately 70 percent of the company's 1,000 employees have been informed that their jobs are being eliminated.
eToys said the layoffs were effective immediately for about 380 employees. The remaining number, approximately 320, will leave their jobs by March 31st.
The Los Angeles-based company, which is the No. 2 online toy e-tailer behind the co-branded Amazon/Toysrus.com operation, also said that it will close warehouses in the City of Commerce, California and Greensboro, North Carolina during the next 30 to 60 days, reassigning those operations to distribution centers in Ontario, California and Blairs, Virginia.
The announcement of layoffs apparently came after the close of trading Thursday, when eToys settled at 16 cents per share. The stock has traded at above $85 during the past 18 months.
Warning Came
In December, eToys warned of the job cuts, without giving any details on how numerous they would be. The warning accompanied an announcement that the company will miss its revenue estimates for its third quarter.
eToys said at that time that it would begin 2001 with between $50 million and $60 million in cash on the books, rather than the $100 million it had previously estimated. The company added that at current burn rates, it would need to raise money again by March 31st — three months earlier than expected — in order to stay afloat.
"We are disappointed that sales have not materialized to the degree we had expected," eToys president and chief executive officer Toby Lenk said in December. "Going forward and based on current operating realities, we will take aggressive steps to reshape the company's cost structure and to best position the company for the future."
eToys engaged investment bank Goldman Sachs to explore strategic alternatives, including "a merger, asset sale, investment in the company or another comparable transaction."
Europe Ops Close
One day before the details of the U.S. layoffs came out, eToys announced that it will shut down its European operations this month because of the "disappointing recent performance of the company as a whole" and poor market conditions — despite the company's status as the No. 1 toy e-tailer in Europe.
eToys Europe marketing director James Bidwell told the E-Commerce Times on Wednesday that the company's European holiday sales revenue was double that of the previous year, but that eToys Europe was "wholly reliant on the U.S. for funding."
Descending, Ascending
In contrast to eToys' woes, archrival Toysrus.com is enjoying its day in the sun. Toysrus.com announced Thursday that online sales for the nine weeks leading up to Christmas totaled $124 million, a 218 percent increase over the 1999 holiday season.
The holiday sales figures for Toysrus.com represent more than 75 percent of the company's $164 million total sales for its fiscal year to date, a period from February 1st through December 25th.
eToys has been having trouble competing with Toysrus.com, which partnered with Amazon in August to offer a co-branded Web site. The latest numbers from Nielsen//NetRatings show that during the holiday shopping season, the Amazon/Toysrus.com joint venture saw 123 million visitors, more than five times the traffic of eToys.
Fatal Vision
The online toy market has already proven fatal for other e-tailers, even those with deep pockets and big-name investors. Toysmart.com, which enjoyed the backing of the Walt Disney Co., folded in May. Weeks later, Toytime.com gave up, just nine months after launching behind a marketing barrage.
Also notable is the fact that massive layoffs often lead directly to a dot-com death. According to data released last year by Chicago, Illinois-based outplacement firm Challenger, Gray & Christmas, nearly 20 percent of Internet companies that lay off workers subsequently cease operations.