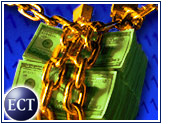 Half of the 22 publicly traded U.S. consumer e-commerce companies will need to raise cash before the 2001 holiday season, and those that fail to do so are likely to fall by the wayside, according to a report released Monday by Goldman Sachs & Co.
By mid-2001, just 12 to 14 of the 22 are likely to be around, Goldman analyst Anthony Noto said. However, "more than half of these companies will be less than two quarters from profitability," Noto wrote in the report.
"The holiday season will be decisive in determining which companies will have access to capital next year," wrote Noto.
Bargain Hunting Risky
Noto also cautioned investors against "bargain-hunting" among depressed e-commerce issues in anticipation of a pickup next year.
"While a number of our holiday tracking studies have shown early strength in both industry-level sales and satisfaction levels, we continue to believe only a few select e-commerce companies will see price appreciation," Noto wrote.
Because of high cash-burn rates, lack of profitability and "uncertainty of business models," the stocks will continue to struggle and the shakeout will persist, he wrote.
Favorites: Amazon, eBay
Among projected winners are e-tail giant Amazon.com (Nasdaq: AMZN), which, according to Noto, will end the year with "just under US$1.2 billion in cash;" eBay (Nasdaq: EBAY), the only profitable e-commerce company; and Barnes & Noble.com (Nasdaq: BNBN), which will not need additional capital soon.
In June, Noto calculated cash-burn rates for publicly traded e-tailers and determined that at least 10 would need to raise cash this year or next. Since then, several have gone out of business or have been swallowed up by larger rivals. In recent months, Mothernature.com, Garden.com, Streamline.com and Pets.com have all ceased operations, and Homegrocer.com and Fogdog.com have been acquired.
"Cash continues to be the number one catalyst for companies in the consumer e-commerce sector," Noto wrote. As the number of competitors shrinks, however, the environment will become "less aggressive," allowing survivors to "emerge as category leaders," he said.
The Sweet Spot
This holiday season is "crucial" to online merchants, Noto wrote. While online shopping is projected to continue growing, e-commerce has yet to achieve "the sweet spot of acceptance from the mass market," he said.
Last holiday season, e-tailers were able to spend money to boost sales. This year, however, "companies will be focused on execution, progress toward achieving scale and leverage, and profitably meeting the needs of customers by providing 100 percent customer satisfaction," Noto said.