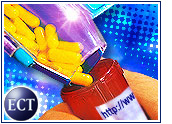 Online sales for health and beauty products e-tailer Drugstore.com (Nasdaq: DSCM) in the fourth quarter of 2000 totaled more than US$35 million, approximately a 90 percent increase over sales in the same quarter of 1999, the company announced Monday.
Revenues for the recently completed quarter were greater than those of the entire 1999 fiscal year, and exceeded the company's expectations, announced in October, of sales in the $29 million range.
Morningstar.com analyst David Kathman told the E-Commerce Times that while the figures are "encouraging," just how encouraging will not be seen until the company releases its full quarterly report, including operating expenses, later this month.
"Even if they keep growing revenue really fast, if they're spending money a lot faster than they bring it in, that doesn't do them any good," Kathman said.
Drugstore.com said that preliminary, unaudited gross margin for the fourth quarter in 2000 was more than 13 percent, compared to a negative16.3 percent return for the year-earlier quarter. In October, Drugstore.com predicted gross margin of 11.5 percent for Q4 2000.
"Thirteen percent gross margin is okay but not fantastic," Kathman said. "A lot of e-tailers and brick-and-mortar retailers have fatter gross margins than that."
Waiting for Profit
Kathman noted that Drugstore.com's third quarter 2000 gross margin was 9.2 percent, so the company is making progress in that respect.
Even so, Kathman called the current number "no great shakes, compared to even Amazon, which has a gross margin around 25 percent."
In the third quarter of 2000, Drugstore.com had sales of about $26.5 million (an increase of 118 percent over the year-earlier quarter), but a net loss of $45.7 million and an operating loss of $48 million.
"When they finally report their full results, I would like to see that net loss get down, or at least the operating loss," Kathman said.
Buying Time
However, unlike many other e-commerce companies, particularly pure plays, Drugstore.com does not seem to be at a make-or-break point yet. The company had approximately $147 million in cash as of October, including $63 million of capital investment raised in August.
Another positive for Drugstore.com is that the company said it added 257,000 new customers in the fourth quarter, after gaining 190,000 in the third.
Drugstore.com chairman and chief executive officer Peter Neupert said that the company's preliminary report "validates" the drugstore category as an attractive sector for e-commerce.
"Our preliminary fourth quarter results indicate that Drugstore.com is a growing business that consumers value," Neupert said. "Despite a tough external market, we were able to nearly double our net sales in the fourth quarter while continuing to increase our gross margins and lower our operating losses."
Ugliness in Beauty
Though well off its 52-week high of $36.63, Drugstore.com stock closed up 72.5 percent Monday, at $2.16. For parts of the morning, the stock traded at more than double the value of its Friday close.
The fall of Drugstore.com's stock in 2000 was nothing unusual for e-commerce. Overall, like many other sectors, the online health and beauty industry struggled in 2000. Beautyjungle.com folded in November and Eve.com did so in October.
In October, market research firm InsightExpress issued a report calling online pharmacies a "prescription for failure." The firm found that 93 percent of online shoppers surveyed had never made a purchase from an online drugstore and 76 percent had never even visited one.
Within the sector, however, Drugstore.com ranked No. 1 on Forrester's "PowerRankings" index, which measures company performance across a host of different categories, ahead of PlanetRX.com, VitaminShoppe.com and WebRX.com.
More with Less
In fact, Drugstore.com increased its revenue in the most recent quarter despite having laid off 60 employees, or about 10 percent of its staff, in an effort to reduce operating expenses.
At the time, the company said that the job cuts were "prudent and appropriate actions that are consistent with our stated strategy of achieving sustainable growth, while conserving cash on hand."