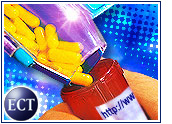 Online pharmacy Drugstore.com (Nasdaq: DSCM) has laid off 60 employees, about 10 percent of its total staff, as part of a plan to reduce operating expenses.
The cutbacks came just ahead of earnings news released Monday, which revealed that sales for the quarter ended October 1st were $26.5 million (US$), up 118 percent from the third quarter a year earlier.
Drugstore.com's loss before items was $33.3 million, or 58 cents per share. Analysts had expected a loss of 64 cents.
'Prudent' Actions
The job cuts were "prudent and appropriate actions that are consistent with our stated strategy of achieving sustainable growth, while conserving cash on hand," the company said.
"We believe we're making these decisions from a position of strength," the company added. "We are the No. 1 online drugstore, and we successfully raised another $63 million in August, despite a very challenging capital markets environment."
Drugstore.com's net loss for the quarter totaled $45.7 million, or 80 cents per share, compared with a loss of $41.97 million, or $1.33, in the same period last year.
Net Loss Narrows
According to Drugstore.com chairman and chief executive officer Peter Neupert, the results show the company's ability to leverage its investments while sustaining growth.
"Despite significant reductions in spending, we delivered solid increases in revenue, gross margins and repeat orders," Neupert said.
Drugstore.com said it added 190,000 customers in the quarter, with repeat orders rising to 65 percent of overall orders from 59 percent in the second quarter. Average revenue per order rose to $49 in the third quarter from $43 in the second.
Drugstore.com shares gained following the news, rising 1/16 to 2 5/8 in early trading Monday.
Moving Forward, Cutting Back
Fourth-quarter sales, the company predicted, will be in the $29 million to $30 million range — in line with analysts' forecasts. Losses before items will be about even with third-quarter levels, with gross margins edging up to 11.5 percent from 9.2 percent in the third quarter.
As it takes steps to cut spending and reduce costs, net 2001 sales will be between $135 million and $145 million, with losses before items of $105 million to $110 million, Drugstore.com said.
Gross margins for 2001 will range from 14 to 16 percent, the company said, as it reduces operating expenses by more than $50 million through the job cuts and lower marketing and administrative spending.
Pharmacy, Beauty Sites Struggle
Online pharmacies, as well as e-tailers selling health and beauty products, have had a hard time gaining acceptance among consumers. Beauty site Eve.com was the latest casualty, closing its operations on Friday.
Also on Friday, market research firm InsightExpress issued a report calling online pharmacies a "prescription for failure." The firm found that 93 percent of online shoppers it surveyed had never made a purchase from an online drugstore and 76 percent had never even visited one.
"There's an extraordinary difference between buying a CD online and discussing side effects and proper dosages," said InsightExpress president Charles Hamlin.
Bellevue, Washington-based Drugstore.com offers health, beauty and pharmacy products. It has alliances with Rite Aid Corp., General Nutrition Companies, Amazon.com and WellPoint Health Networks.