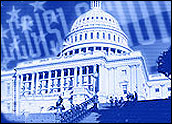 A pair of bills introduced this week in the U.S. Senate and House of Representatives would make it easier for state and federal officials to crack down on illegal sales of pharmaceuticals over the Internet.
The Senate bill, known as the Internet Prescription Drug Consumer Protection Act of 2000, was introduced by a bipartisan coalition of senators including Edward Kennedy (D-Massachusetts) and Health, Education, Labor and Pensions committee chairman James Jeffords (R-Vermont).
"Our goal with this act is to allow American consumers to place the same confidence and trust in Internet pharmacies as they do in traditional brick-and-mortar pharmacies," Jeffords said in a floor statement introducing the bill.
A similar bill was introduced in the House by Commerce committee chairman Thomas Bliley (R-Virginia) and Rep. Ron Klink (D-Pennsylvania).
International Rogues
Acknowledging that many Internet pharmacies are "fly-by-night or foreign businesses that easily avoid prosecution," the Senate bill would require all interstate and international pharmacies to disclose their exact address and telephone number, as well as the states in which they are licensed to sell drugs.
"In the search for lower-priced prescription drugs, American consumers can, unwittingly, order prescription drugs from rogue Web sites that appear to be American-based companies, but are actually overseas sites offering low-priced prescription drugs that are unapproved, counterfeit, contaminated, expired, mislabeled, manufactured in unapproved facilities, or not stored or handled in a proper manner," Jeffords said.
The proposed legislation would also allow the Justice Department to prevent illegal foreign pharmacies from collecting payments from U.S. consumers.
U.S. States Coming Together
One of the most meaningful provisions in the new bill is a clause that would grant states the right to go to federal court to obtain an injunction valid across the U.S. to put illegal Internet pharmacies out of business.
Under current law, state attorneys general can only ban illegal pharmacies from selling to residents within their own state, leaving the illegal operator free to sell in the other 49 states.
"For many illegal sellers, the risk of a state injunction is merely a cost of doing business," Kennedy said. "Under this legislation, illegal sellers will be out of business altogether."
State attorneys general have been fighting a ferocious battle against illegal Internet drug sales. Thirty-one states are currently participating in a working group to track Internet drug sales and share ideas about designing legal actions against the companies.
Pending Cases
In the meantime, state prosecutors have been working to stop the illegal sale of drugs over the Web using laws already on the books. Earlier this year, for example, the state of New Jersey filed suit against eight online pharmacies, accusing them of selling such prescription medicines as Viagra, Propecia and Xenical without a license. Similar suits have been filed in Kansas, Missouri and Illinois.
Civil cases have also been filed. Last year, Kansas Attorney General Carla J. Stovall's office filed five consumer protection lawsuits, alleging that the defendants were illegally selling prescription drugs via the Web.
In a sting operation, investigators had a 16 year-old male place orders for Viagra using his real age and his mother's credit card. Three companies sold the minor the drug without parental consent or a medical exam.