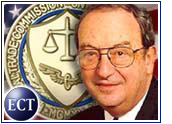 The U.S. Federal Trade Commission (FTC) has settled its case against a group of online pharmacies charged with false advertising and operating an unauthorized credit card processing scheme.
According to the FTC charges, which were filed on July 6th in a federal trial court in Nevada, the online pharmacies advertised a nonexistent network of physicians and pharmaceutical facilities.
The agency also accused the site operators, Sandra L. and Philip Rennert of Las Vegas, Nevada, of making privacy and confidentiality assurances they did not keep, and unlawfully notifying customers that they had the authority to charge their credit cards for "Y2K Remediation."
No On-Site Doctors, No On-Site Pharmacy
The FTC said that the six online pharmacies operated by the Rennerts under the umbrella of "International Outsourcing Group, Inc." (IOG) — at Internet addresses www.focusmedical.com, www.focus-medical.com, www.doctors2000.com, www.doctorsasap.com, www.worldrx.com and www.worldwidemedicine.com — all claimed that they had a "network of physicians throughout the United States and Internationally."
Focus Medical Group had billed itself as "a full service clinic with a full time staff dealing with the treatment of sexual dysfunction," and said that "the clinic's licensed medical physicians [work] with an organization of physicians throughout the United States and Internationally."
In reality, there was one physician located out-of-state. The online pharmacies also falsely claimed that "All of our prescriptions are filled on premises." In reality, the prescriptions were filled at a third party, off-site pharmacy.
Cursory 'Consultation'
First time customers to the IOG Web sites were asked to provide billing and shipping information and to answer questions about their medical histories. They were also required to pay $75 (US$) for a "medical consultation," which according to the FTC, consisted of faxing medical information to an out-of-state physician who reviewed it as a basis for approving or denying prescription drug requests.
The physician was paid $10.00 for each of the first 50 questionnaires he reviewed per week and $7.50 for each additional review. However, if the physician were to deny a customer's prescription request, he would not be paid.
IOG also falsely represented the security and encryption used to protect consumers' information, according to the FTC. The sites made statements such as "Information is transmitted to us using a SSL secure connection." In reality, the sites did not use SSL technology and the information was not encrypted.
Settlement Terms
The settlement reached with the FTC prohibits the defendants from misrepresenting medical and pharmaceutical arrangements they enter into, and from making misrepresentations about the scope or nature of their goods, services, or facilities.
The FTC is also requiring the defendants to post a notice telling customers that dispensing prescription drugs without a prescription is a violation of federal law.
Cashing in on Y2K Hype
In an attempt to cash in on Y2K hype, the Rennerts and their accountant Lyle Mortensen sent an e-mail to 11,000 customers telling them that their credit cards would be charged $50 for "Y2K Remediation" by a company called Impact Technologies.
The defendants said that as a result of customer backlash, they did not allow Impact Technologies to make charges to customers' credit cards.
Online Pharmacies Scrutinized
The IOG settlement is the latest in a series of alleged fraudulent business practices by online pharmacies. The case highlights an issue that has been under U.S. government scrutiny since last year when President Bill Clinton called for laws requiring Internet drugstores to meet license requirements similar to those of their offline counterparts.
Clinton recommended fines of up to half a million dollars per incident for selling drugs without a valid prescription. Additionally, professional medical organizations have fined physicians for issuing prescriptions to patients they contact only via the Internet.
The Food and Drug Administration now has a link on its Web site for consumers to report questionable business practices by online pharmacies. The greatest threat to consumers, according to the FDA, are products that do not meet government quality standards.