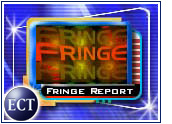 iToke delayed its anticipated launch for a second time this week, hindering any immediate possibility of turning the marijuana trade into a mainstream Internet venture. Still, illegal drug dealers continue to use the Web as a tool for making purchases and sales contacts, as well as facilitating the transaction process.
Tim Freccia and Mike Tucker, iToke's co-founders, hoped to launch their site and delivery service in Amsterdam, where customers would order up to 2 grams of premium marijuana at a cost of $8.94 (US$) per gram. The fledging firm hoped to take orders via Internet-enabled mobile phones and to install kiosks around the city from which customers could place orders.
iToke couriers in bright green and white vans and bicycles would then deliver their product.
Yet while Amsterdam is the only major European city where marijuana is legal, the sale and the use of pot in the Dutch capital is still highly regulated. The sale of the drug is allowed only in designated coffee shops, while the transporting of marijuana — the central premise of iToke's business plan — is illegal even in Amsterdam.
The "Amazon-ization" of Marijuana
Tucker and Freccia, both of Seattle, Washington, have said one of their company's goals is to change the American perception of the culture surrounding marijuana use. The firm also planned to open "iTokeo's" — cafes where "thirty-somethings" can enjoy marijuana in a respectable and clean environment — in London, Tokyo and New York by 2001. Use of the drug is currently illegal in each of those cities.
In Amsterdam, however, iToke's proposed operations have been perceived as an effort to corporatize (and sterilize) the local cafe culture and, in essence, develop the company into a legitimate e-commerce business such as Amazon or Kozmo.
But Amsterdam's cafe owners resented the implication that their businesses were dirty and seedy, and local police threatened to arrest any iToke.com delivery personnel. With so many aspects of their business plan yet undeveloped, iToke balked at the September 1st launch date.
Other Online Drugs Abound
Still, organizing and concluding an illegal drug transaction online remains a serious problem confronting law enforcement officials. In the United States, marijuana, cocaine, heroin and Rohypnol — often referred to as the "date-rape" drug — are readily obtained through online chat rooms and message boards.
According to special agent Scott Ando of the New Orleans Field Office of the U.S. Drug Enforcement Agency, while there are no statistics to measure the extent of illicit drug trafficking on the Internet, the number of Web sites that flagrantly offer illegal wares is multiplying rapidly.
For example, numerous sites offer marijuana seeds for sale online despite warning that the planting of the seeds is illegal in most places. Sites operate under misleading "official" statements in which companies claim that they do not ship to the United States or other jurisdictions where marijuana is illegal.
Ando also points out that the sale of seeds containing THC — the main compound in marijuana — is illegal in the United States.
Prescription Drugs
The practice of ordering legal drugs from U.S. and foreign pharmacies — with or without a valid prescription — continues to challenge U.S. Customs officials, who urge Americans "not [to] assume that medications which are legal in foreign countries are also approved for use in the United States."
Drugs entering the United States must have approval from the U.S. Food and Drug Administration (FDA).
For a fee, however, some Web sites will deliver prescription drugs even without a valid Rx. Last spring, a Glamour magazine reporter investigating online drug fraud successfully obtained Xenical, Prozac, penicillin and the anaesthetic Xylocaine via her office computer.
Crackdown?
In August, U.S. government authorities charged four people (including one doctor) with violating FDA laws and laundering money through their Norfolk Men's Clinic Web site, which delivered the impotence drug Viagra without valid prescriptions.
The FDA alleges that the group wrote prescriptions for Viagra patients using a false name of a supposedly foreign doctor. Then, Dr. Roger Eiland of Clanton, Alabama, allegedly would rewrite the prescriptions and fill them at a licensed local pharmacy, without any direct contact to the patient.