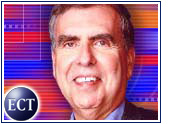 Concerned that consumer anxiety over Net privacy issues might hinder the growth of e-commerce, an elite group of executives came together Tuesday in Miami, Florida, calling for international Web standards to protect personal information.
The Global Business Dialogue on E-Commerce (GBDE), representing 72 corporations including America Online (AOL), Time Warner, Inc. and Toshiba Corp., called for a high-level of self-regulation among e-commerce firms, noting that the laws of individual nations cannot adequately secure the privacy of consumer transactions or personal information.
Instead, the companies hope to build consumer confidence through "trustmark" programs, take added steps to ensure consumer privacy, and provide channels through which customers can address security fears and submit complaints.
"What we are wrestling with is the obvious fact that these transactions go cross border and into places that do not always have the heritage of privacy protections of the United States and Europe," Time Warner chief executive officer Gerald Levin told reporters at the GBDE meeting.
Future of Consumer Confidence
GBDE organizers expressed hope that e-businesses will voluntarily adopt the conference's guidelines, regardless of local laws that are already on the books. The goal of the conference, leaders emphasized, was to supplement existing rules that govern both electronic and traditional commercial transactions.
"We will work to incorporate the principles in these guidelines into our future online business-to-consumer activities," said AOL CEO Steve Case, "and gradually we expect to see them become a benchmark for all business-to-consumer transactions on the Internet."
The conference emphasized that resolving key security issues is critical if e-commerce firms hope to reach the projected $2.5 trillion (US$) in trade by 2005.
Building Trust
"The world's leading companies involved in e-commerce recognize that our success in the marketplace depends on how well we can build consumer trust and confidence in this new medium," Levin said. "We hope to give consumers a clear understanding of the standards they should expect when doing business online."
The GBDE hopes to establish voluntary guidelines for trustmarks, the seals used to identify firms that have adopted specific business practices designed to shield customers from privacy violations.
Trustmarks, according to conference guidelines, should require merchants to disclose their e-commerce business practices to consumers, fulfill and bill customer orders in accordance with written agreements, protect consumer information from outside sources, establish and maintain a privacy policy, and refrain from supplying customers with unsolicited e-mail.
Merchants must also find a way to process customer disputes.
Privacy Standards
Participants at the GBDE also established a policy on privacy that emphasizes the need for companies to be open with customers in all matters relating to privacy concerns. Under the GBDE parameters, e-businesses must explain on their Web sites how personal data is collected, especially when cookies or "Web bugs" are used.
The guidelines also call for strict limitations on collecting data pertaining to personal medical files or obtaining any information from children.
The conference comes only weeks after e-tail giant Amazon.com unveiled a controversial revision of its privacy policy. On September 1st, company CEO Jeff Bezos announced that Amazon would reserve the right to treat personal information gathered at its site and those of its online affiliates as business assets that could be bought and sold as online properties change hands.
At that time, Bezos said, "In the unlikely event that Amazon.com, Inc., or substantially all of its assets are acquired, customer information will of course be one of the transferred assets."
Amazon Aftermath
Amazon claims to have informed its 23 million customers of the changes to its privacy policies via e-mails, keeping pace with the disclosure standards of both the GBDE conference and the U.S. Federal Trade Commission (FTC).
Amazon did not, however, send representatives to the GBDE Miami conference.
"We have no position on these specific meetings," Paul Misener, Amazon VP of global public policy, told the E-Commerce Times. "But we certainly will be working next year with other companies and policy makers in the U.S. and elsewhere on online privacy issues."