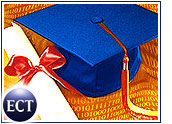 Those e-commerce marketers who think that American college students are only good for downloading free music files from Napster should think again. Students are headed back to campus this fall with as much as $80 billion (US$) of disposable income, and they represent one of the most Web-savvy segments of the Internet marketplace.
To tap into that market, e-commerce firms are exploring a host of creative strategies — from peer-to-peer marketing and advertising through e-mail — to adapt Web business plans to the college market.
Textbook Answers
One way to encourage college students to buy online is to address their needs directly. Online bookstores have been leaders in capturing the college market, as students who have already budgeted for textbooks are often just looking for the best deal.
Washington D.C.-based Varsity Group, the parent of VarsityBooks.com, is dominating the market. Earlier this month, the company reported record second quarter earnings with net sales of $2.3 million, beating analyst expectations by over 50 percent.
E-commerce firms that are not in the book business may also be able to benefit from Varsity's approach to market research in the college sector.
Instead of investing heavily in traditional marketing campaigns, Varsity employs thousands of student representatives to use peer-to-peer marketing strategies. Students are paid to promote the company through word-of-mouth — talking to friends or making announcements at club meetings — and by posting fliers.
"College students are famously important to marketers but famously difficult to reach," Varsity Group's Sam Heitner told the E-Commerce Times. "Students who know a campus can get the word out more effectively than marketing pros who don't."
Pizza and Ice Cream Party
Other companies hoping to capitalize on the college market have teamed up with Varsity, transforming the textbook e-tailer into a consulting firm and a portal to other commercial Web sites.
In recent months, Papa John's Pizza, Ben & Jerry's, Staples.com and AT&T Wireless have forged agreements to link to the Varsity Group sites in order to hock their wares and build name recognition among students without having to show up on campus.
Students can also link directly to Sallie Mae, a student loan provider, to seek financial aid information.
Pink Dot Goes Dot-com
Meanwhile, a growing awareness of how much time college students spend online is encouraging traditional brick-and-mortar and delivery businesses to develop e-commerce models.
Los Angeles-based Pink Dot, to be renamed PD Quick, delivers any product — from hot meals to toothpaste to videos — that customers request between 6 a.m. and 3 a.m. The company, which is expanding into national markets, will concentrate on developing Internet customers, and plans to target 20 to 30 percent of its growth to college markets.
"Where else can you get cigarettes, beer, hot food and a video at all hours of the night," said PD Quick media supervisor Jimmy Huh. "We try to capture the market from the consumer's freshman year to their fifth year out of college when they are single, employed, and too busy to cook dinner or buy toothpaste."
PD Quick hopes that 25 to 30 percent of its orders will come from its Web site by this time next year.
How Deep are the Pockets?
One potential downside to the college market is that many students have limited disposable income and much of their spending power comes from high-interest credit cards. Recent reports indicate that nearly two-thirds of students carry at least one credit card, and up to one-fourth of students with credit cards carry balances over $10,000.
Yet while most companies turn away from college students because of their debt, one home-grown business is attempting to turn students into responsible consumers and make money at the same time.
The United College Marketing Services (UCMS), a credit counseling company started by Larry Chiang in his dorm room in 1989, educates college students about credit card debt and fiscal responsibility while paying students to read advertisements delivered to their e-mail.
Close to 20,000 students receive anywhere from 20 cents to $2.50 per e-mail advertisement they read on CampusBackbone.com. After graduation, students can join 278,000 registered users at another UCMS site, MoneyForMail.com.
"Both sites are growing tremendously because they offer a win-win situation for both consumers and advertisers," UCMS's Jennifer Homan told the E-Commerce Times. "Advertisers are leery to participate sometimes because they worry about the college segment, but they like to have their message delivered and e-mail is cheaper than snail mail."